---
Club Champs may pull-out of national duties in future
By Harsha Amarasinghe
Kandy Sports Club will not tolerate any further 'nonsense' with regard to the selections of the national rugby team as two of their senior players were almost axed from the Sri Lanka 7's squad.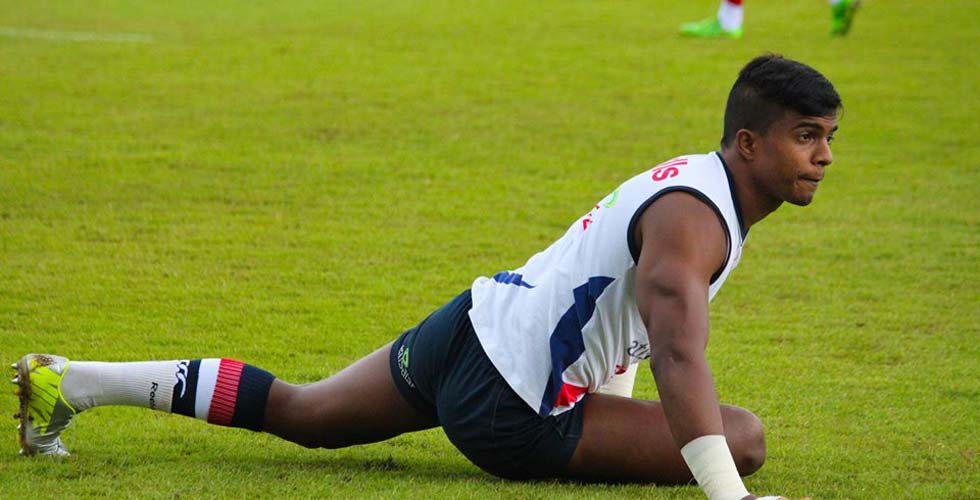 Richard Dharmapala has been one of Sri Lanka's most consistent 7's players
Wing three quarter Richard Dharmapala and scrum-half Srinath Sooriyabandara were named in the 12-man squad, but Daily Mirror understands that the High Performance Director of Sri Lanka Rugby (SLR) Inthi Marikar requested both the National Selection Committee and Sports Ministry to replace the Kandy duo with CR speedster Reeza Raffaideen and Havelock wing three quarter Kevin Dixon due to the fact that Dharmapala and Sooriyabandara opted out of Borneo 7's.
A former national player, Marikar is known for his overall rugby knowledge and the ability to read the game, but his feud with Kandy Sports Club is also no secret within the rugby community in Sri Lanka.
In fact a source close to the national selection committee revealed that Marikar also wanted to drop Danushka Ranjan who is the highest try scorer in the top division for the last three years.
Kandy are furious on how such a significant member of the supporting staff, has gone about his business, and revealed that they won't hesitate to not send players for the national duties should such 'nonsense' continue.
"It is absolute nonsense and completely disrespectful towards two of our best players. Richard has been the second highest try scorer for last two seasons and anybody in the Asian rugby circuit would tell you who Srinath Sooriyabandara is. We understand that this individual has some sort of a personal problem with Kandy Sports Club, but Sri Lanka Rugby should handle things better. We just want to make it clear that further ill-treatment to our players shall not be tolerated and if this goes on, our players will not be sent for the national duties," a club spokesman told Daily Mirror.
Meanwhile, Daily Mirror also learns that Dharmapala was deeply affected by this and even considered giving up on national duties while it has also been emerged that Marikar insults certain Kandy players during training sessions.
The former CR wing three quarter has a history of training ground disputes as he along with Rohan Gunarathne had blasted a set of Royal College players during Sri Lanka Under-20 practices a couple of seasons ago.
However, the following squad has been approved by the Ministry of Sports to take part in the Commonwealth Games.