---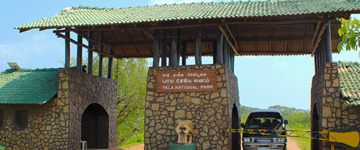 Warden of the Yala National Park Suranga Rathnayake remains harassed and an unbearable amount of pressure is levelled on him after he revealed to the media how political pressure was exerted on him and Wildlife Conservation Department (WLCD) Director General Dr. Sumith Pilapitiya, prompting the latter to resign, it is learnt.
Suranga Rathnayake told Daily Mirror that Sustainable Development and Wildlife Minister Gamini Jayawickrama Perera urged him to apologise to Housing Minister Sajith Premadasa following an unpleasant incident that took place between the two of them at the Yala National Park.
He also claimed that the particular occurrence together with several other incidents related to 'political interference' prompted Dr. Pilapitiya to resign from his esteemed post.
Meanwhile, Minister Jayawickrama said he would investigate into what he called 'false' statements made by Suranga Rathnayake, as Mr. Suranga violated the Establishments' Code thus tarnishing the image of the government as well as the WLCD.
It is learnt that Mr. Suranga would be interdicted at the end of the said inquiry unless he requests for a transfer. However, Mr. Suranga has not yet appealed for a transfer while the inquiry is yet to commence. (Piyumi Fonseka)
http://www.dailymirror.lk/110716/Why-did-Wild-Life-Department-chief-resign-
http://www.dailymirror.lk/111017/Yala-Warden-s-Daily-Mirror-Interview-Ministry-to-hold-inquiry