---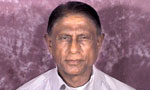 Sustainable Development and Wild Life Conservation Minister Gamini Jayawickrama Perera said he would order an inquiry into the statements made by the Warden of the Yala National Park during an interview with Daily Mirror.
He said the interview had embarrassed the ministry and tarnished the image of the government.
The minister denied the allegations made by Yala Warden Suranga Ratnayake that he had asked him to apologize to Minister Sajith Premadasa.
"I was not allowed to do my duty by Minister Premadasa. He kept visiting the Yala Park as he wished without following Wild Life Department regulations. One day, I spoke directly to the minister about it.
In response Minister Premadasa said he had a habit of visiting the park and that just because I had been appointed as the new park warden, such habits could not be changed. Minister Jayawickrama asked me to apologize to Minister Premadasa over this incident. But, I didn't do so, because I had done no wrong," the warden is quoted as saying.
However, the minister said Mr. Suranga had uttered lies and that he had no right to make such statement to the media.
"We will wait till situation settles down. He has made serious damage to the government. Minister Premadasa is an animal lover and a senior minister. His habit of visiting the Yala is not an offence at all. He was the one who phoned me and informed me that he heard some gun shots within the Yala sanctuary on the day the raid was carried out by the WLCD officials. I had instructed Suranga to make a complaint to the police before the suspected poachers are produced in Court. He did not do so," the minister said. (Piyumi Fonseka)