---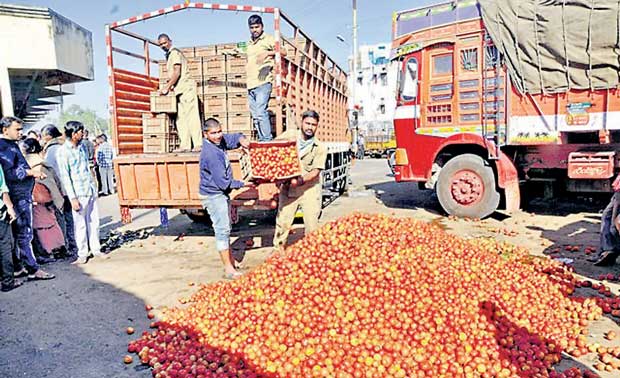 Farmers across India are battling a steep fall in wholesale vegetable prices and are forced to discard their produce as a nationwide cash crunch following the scrapping of high-value banknotes hurts demand.

The crash in wholesale prices comes at a bad time for farmers, who reaped a bumper crop and were hoping for good returns to make up for losses induced by two straight drought years.

Last Wednesday, S Raju, a farmer from Anantapur district, brought around two tonnes of tomatoes to Bowenpally market in Secunderabad but had to return home empty handed.

He was shocked when traders at Bowenpally offered not more than Rs 2 a kg for his crop.

Frustrated, he unloaded boxes of tomatoes and dumped them in the market yard, before cursing the traders and market authorities.

In Uttar Pradesh the state government has approached several potato-deficit states, offering them to lift surplus potato from the state at an affordable rate in a bid to help its farmers get a better price.

The government move comes amidst prevailing low prices of potato that have added to the plight of farmers. "The state government has written to potato-deficit states like Karnataka, Kerala, and Tamil Nadu, telling them they can procure potato from UP," horticulture director SP Joshi said.
Hindustan Times,
Dec 26, 2016