---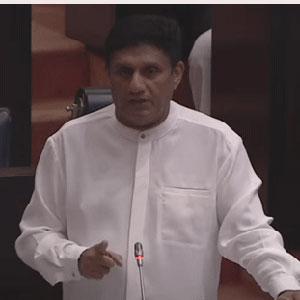 PARLIAMENT (Daily Mirror)- Opposition Leader Sajith Premadasa today revealed that Sri Lanka Cricket (SLC) president Shammi Silva had sent a letter to the International Cricket Council (ICC) alleging that the Sports Ministry had made undue interferences in its activities and claimed that this had paved the way for the ICC ban on Sri Lanka Cricket.
The Opposition Leader told Parliament that the communique which contained five serious allegations with an additional point had been sent to ICC Chairman Greg Barclay on August 28, 2023, and he tabled the letter in Parliament.
Premadasa said the letter had levelled allegations against the Sports Ministry claiming that the Director of Sports had unduly influenced cricket tournaments in the country, that the Sports Ministry secretary had requested salaries paid to the office bearers of the SLC, that the Sports Minister had influenced the SLC to obtain permission to hold the LPL tournament, that the Sports Minister had influenced to draft the SLC Constitution and that the draft audit report had been leaked.
He said the letter contained one additional point which said the Sports Minister influenced the SLC to contribute 20 percent of the SLC funds to the National Sports Fund.
The Opposition Leader said these allegations had been made on August 28, 2023 and another communique sent earlier had created the atmosphere for the ICC to impose the ban on Sri Lanka Cricket.
He said this is a betrayal of Sri Lanka Cricket by its president and demanded action against it.
Chief Government Whip Prasanna Ranatunga said it is serious when the Opposition Leader had revealed it with written evidence and requested the Speaker to appoint a Parliamentary Select Committee to look into the allegations.