---
By Shehan Daniel
reporting from Durham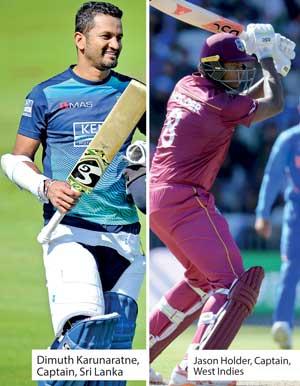 With their slim, next to impossible, chances of making the World Cup semi-final ending, Sri Lanka will have nothing more than pride to play for when they take on the West Indies at the Riverside Grounds in Chester-le-Street, Durham in their penultimate group stage game.

Defeat to South Africa at this venue last Friday meant that Sri Lanka no longer had control over their fate in the tournament, having to rely on other results going their way in addition to the improbable task of winning their two final games.

All permutations for Sri Lanka to make the knock-out stage were nullified with England's victory over India at Edgbaston yesterday, adding them to the list of teams that are no longer in contention – a list that already includes Afghanistan, South Africa and their opponents today.

That result means that even if Sri Lanka won their last two matches, it could not better England's five wins, the statistic that acts as a tie-breaker in the event teams ended on the same number of points.

Captain Dimuth Karunaratne acknowledged that it reflected a larger issue with the team's batting unit throughout the campaign.

"I think the batting is the main (reason for the) collapse. We couldn't get a hundred. We played six matches and we couldn't get a hundred, only a couple of 50s. If you want to compete with the good sides, you (have) definitely got to have a good batting line-up and you have to put runs on the board, so I think in this World Cup, the major part is the batting line-up," Karunaratne said.

Sri Lanka had a productive powerplay against South Africa, scoring 67 runs in the first 10 overs but the middle order's inability to rotate the strike and put the opposition's bowlers under pressure meant that their innings slowed to near halt.

It was another instance where either the top order or middle order fired in isolation, but failed to contribute as a whole unit.

"They have capabilities to score runs, but I think the only thing is they were scoring though as a unit we couldn't perform really well in these matches. I think everyone has to put hands up and put heads down and put some runs on the board if you want to really win the matches," Karunaratne said.

While changes after the World Cup appear imminent – and a full introspection is required as to the short falls at all levels of the team – Karunaratne said the team was focussed only on completing the World Cup on a high, claiming his team was better than they had performed at the tournament.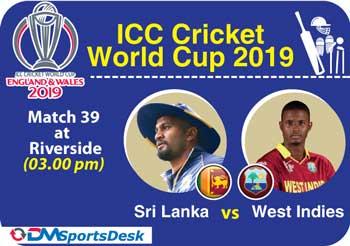 "We haven't talked about what happens after the World Cup. We need to finish well here. We had a chance to win that South Africa games and win the rest and get easily into the semis. But now we have to wait for other results. We're not a side who should be in this position. We have talent, and skill to compete with anyone. But we only performed in certain games. It's our bowlers who mainly performed as well. Our batting line up hasn't fired altogether yet," Karunaratne said.

Sri Lanka are likely to make one change, replacing Suranga Lakmal with Kasun Rajitha, himself a replacement for Nuwan Pradeep who was ruled out for the rest of the tournament with chicken pox.

Sri Lanka have not lost to the West Indies in a World Cup match in 27 years since losing by 91 runs in 1992, beating them in 2003 by six runs and in 2007 by 113 runs.

The match between the team in the 1996 World Cup was awarded to Sri Lanka after West Indies refused to travel to Sri Lanka.