---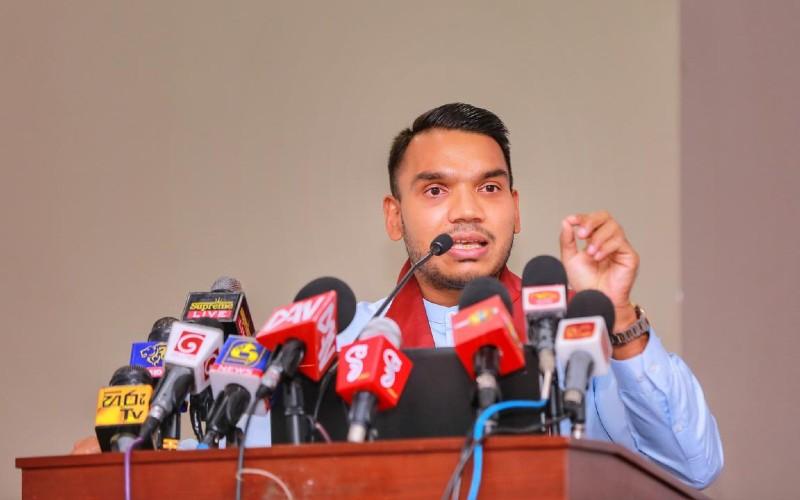 By Susil Premalal
Sports Minister Namal Rajapaksa has made a request from the government to increase the allocation for sports in the next budget by up to 20 per cent.
He made this revelation at the launch of a High Performance initiative and press conference held at the Sports Ministry auditorium in Colombo on Wednesday.
"Only six per cent of the current budget allocation could be used for the development of athletes' performance whereas 94 per cent goes for administration of the Sports Ministry and building infrastructure facilities," he said attributing the decline in the standard of sports in the country for this.
He warned that if this status quo remains there is no way sports in the country could achieve results at international level.
"India on the other hand spends 20 per cent of their national budget for sports while Australia allocates 40 per cent. That is why we have proposed that this year the budget allocation for sport be raised by 20 per cent and increased to 40 per cent the following year," said Rajapaksa who holds the Cabinet Ministry portfolio of Youth Affairs and Sports.
While lauding Sri Lanka's efforts of reaping a harvest of 262 medals at the 2019 South Asian Games (SAG), the minister said it is no big deal to win medals at the regional event. He said Sri Lanka's focus should not be the SAG but winning laurels at Asian Games, Asian Para Games, Commonwealth Games, Olympic Games and Paralympic Games.
"Sri Lanka has a rich history of winning medals at Asian Games, Commonwealth Games, Olympics and Cricket World Cup though not achieving success in recent memory. We should strive to regain our past glory at these competitions," he said.
He noted that the National Sports Council has been in existence since 1979 but has not made any significant impact.
"But the present National Sports Council (NSC) has launched a National High Performance Strategy and Sports Tier system in the country. Seven sports comprising 56 athletes have been chosen for this pilot project. Their target is medals at the 2022 Asian Games and Commonwealth Games and 2024 Olympics. Their personal coaches are also registered for this programme," he said.
"If an athlete is selected for training overseas, he or she should focus on improving standards while those participating in competitions should go with the objective of winning," he declared promising unprecedented cash rewards like never before to those who succeed at these Games including for coaches.
"I have been appointed Sports Minister to develop sports not to function as a welfare minister," he quipped rapping National Sports Associations who are only focused on elections than developing the performance of athletes.
He added that his main objective is to upgrade sports and not working to please officials of sports bodies including Sri Lanka Cricket.
NSC chairman Mahela Jayawardene said they are in the process of formulating a national sports development plan.
"The initial step is to identify talented athletes and provide insurance cover. The goal is to make them professionals in their respective sports," he said.

Photo: Sports Minister Namal Rajapaksa at the press conference