---
An impressive bowling return of 6 for 15 by spinner Shafiqullah Ghafari and half tons from Imran Mir and Ibrahim Zadran helped Afghanistan 19 pull off a stunning seven wicket win over host South Africa U19 in the first match of the ICC U19 World Cup played at Kimberley on Friday (17).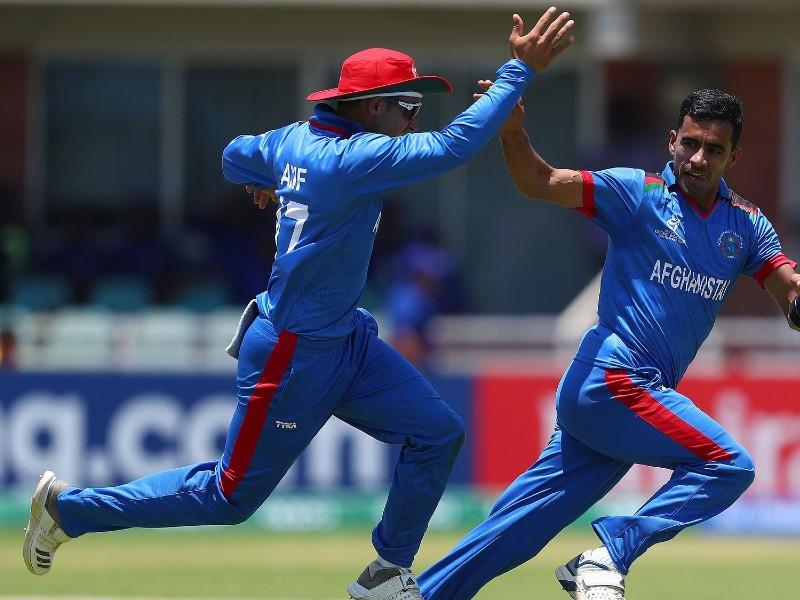 Afghan spinner Shafiqullah Ghafari celebrates taking a wicket (Pic courtesy ICC)
South Africa U19 skipper Bryce Parsons won the toss and elected to take first lease of the wicket, but then saw his team suffer early setbacks losing both openers with the score on seven.
They recovered through a valuable 55-run stand for the third wicket between Parsons and Luke Beufort but the separation of the duo led to a collapse as spinner Ghafari along with Fazal Haque and Noor Ahmad sent the host batting reeling for a low score of 129 runs.
Afghanistan U19 in their run chase got off to a sedate start with openers Farhan Zakhi and Ibrahim Zadran putting on 26 runs. Zadran joined by Imran Mir almost sealed the game for Afghanistan U19 with the pair associating in 80 runs stand for the second wicket paving the way for them to race to the target in just 25 overs.
Results:
At Kimberley – Afghanistan U19 won by seven wickets
South Africa U19 129 in 29.1 overs (Bryce Parsons 40, Gerald Coetzee 38, Luke Beufort 25: Shafiqullah Ghafari 6 for 15, Fazal Haque 2 for 43, Noor Ahmad 2 for 44)
Afghanistan U19 130 for 3 in 25 overs (Imran Mir 57, Ibrahim Zadran 52: Achille Cloete 2 for 28)