---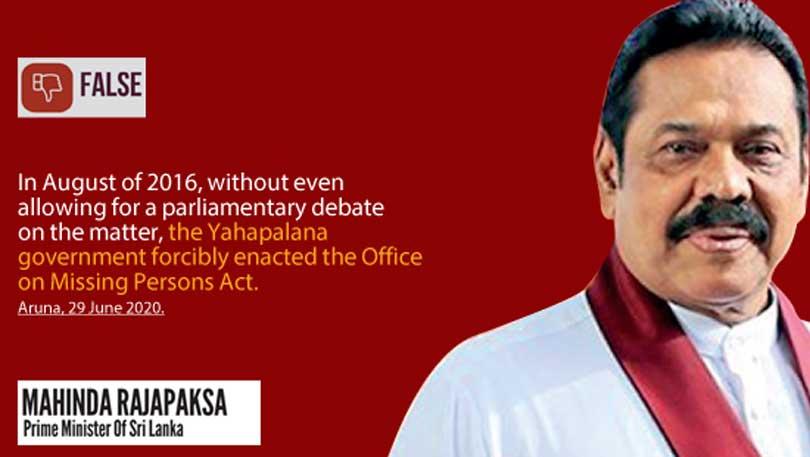 Prime Minister Mahinda Rajapaksa claimed that the former government forcibly enacted the Office of Missing Persons (OMP) Act. In his statement, the prime minister indicated that this forcible enactment involved not allowing space for opposition or dissent.

To evaluate this claim FactCheck consulted publicly available records on parliamentary debates and procedure such as Hansards, Order Papers, and the Parliamentary Standing Orders.
The OMP Act was passed with unanimous consent on 11 August 2016 after the third reading of the Bill. No opposition MPs present on the date expressed dissent by calling for a vote on the Bill.
The normal four-stage due process of parliamentary deliberation and approval was followed, prior to subjecting the Bill to a final vote:

(1) The first reading occurred two months prior to enactment, after which parliament referred it to the relevant sectoral oversight committee (SOC).
(2) The SOC—which included opposition MPs—reviewed the Bill and made revisions.
(3) At the second reading, the Bill was further debated and amended by the whole of parliament 'sitting as a committee' and moved to the third reading.
(4) At the third reading the opposition had another opportunity to propose revisions to the Bill but did not invoke the relevant standing orders.

These facts show that: (1) the OMP Act was passed with (effectively) unanimous consent, (2) due process was systematically followed, allowing ample time and space for opposition views to be aired and incorporated, and (3) the Bill was amended at two stages of debate before enactment—through SOC deliberation and parliamentary debate. These facts do not support the claim that the OMP Act was forcibly enacted without space for opposition.

Therefore, we classify Prime Minister Rajapaksa's claim as FALSE.

*FactCheck's verdict is based on the most recent information that is publicly accessible. As with every fact check, if new information becomes available, FactCheck will revisit the assessment.
FactCheck is a platform run by Verité Research.
For comments, suggestions and feedback, please visit www.factcheck.lk.