---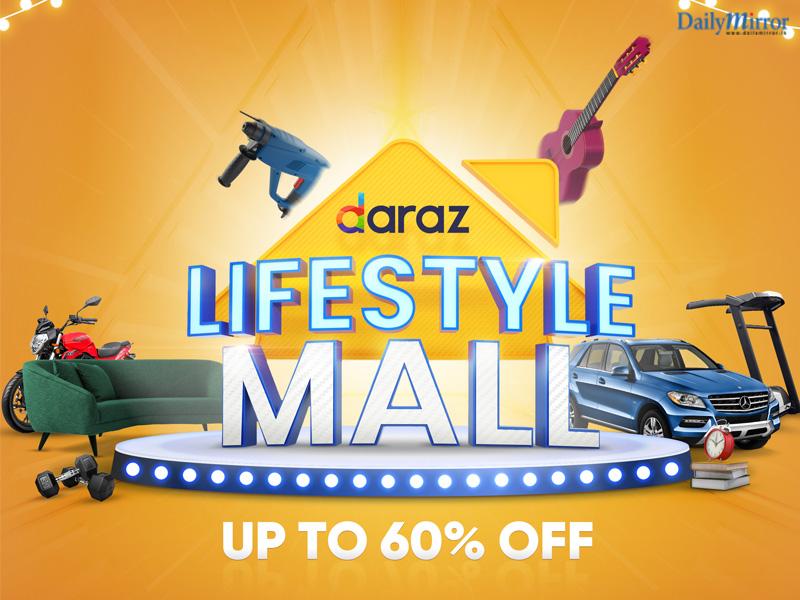 Daraz brings you one week of Lifestyle excellence via the
Lifestyle Mall
, the one stop shop for all your Motor, Music, Sports and Lifestyle needs. From the 23rd of February to the 2nd March 2021, experience mega deals on Home and Living, vehicles, music and sports with the lowest prices in town. With over 500,000 products on sale and deals of up to 60% off, shoppers can end the month on a high note.
Daraz also brings the optimum solution for automobile needs with
dMotors
; the ideal way to explore the motor world. With up to Rs. 300,000/= off on vehicles, dMotors brings together a wide variety of vehicle and accessories on to one platform, making the purchase of your motor needs hassle free.
Making the Lifestyle week more exciting is the chance to win a 150 CC
Demak
motorbike for just Rs. 1/- by playing the one-rupee game; a one-of-a-kind opportunity for Daraz customers.
The one-rupee game also offers consumers the opportunity to win a Quantum electric treadmill, a modern tree bookshelf, an Electrical multi toolset or even a 6ft giant teddy bear for just Rs. 1 only.

A special offer for fitness fanatics includes the offer of up to 50% off at
Quantum Fitness
and Decathlon on all fitness ranges. Freebies and free shipping also await these lucky customers.
With 60% off, free shipping and exciting giveaways from the Furniture and kitchen range as well as the chance to win a bedding set worth Rs. 10,000/= for purchases over Rs. 3000/= from
Linberry
at the DarazMall, upgrade comfort in your home with Daraz.
As schools around have recommenced, whether online or in-person, stand a chance to win a School Term's worth of stationery from
Promate
and dive into lessons, completely prepared.
Partnered with the DarazMall, the premium channel, which sells over 450 trusted brands with 100 % genuine products and a 14-day return policy, as well as brand partners such as Demak, Quantum fitness, The Concept Store, Promate, Homelux, Serendib, VTEC Home, Homelux Pvt LTD & Five Star Melamine, Daraz continues to offer the very best to their consumers.

With leading banks such as BOC, HNB, Sampath Bank, Seylan Bank, People's Bank and NDB offering a further 10 % off and up to 40 months of 0% instalment plans on credit cards, the burden of instant payment has been eased for customers.

Daraz is ready to facilitate you as you revamp your home, upgrade your vehicles, boost your passionate hobbies and more. To receive early bird offers on your favorite categories like music, sports and fitness from the lifestyle mall, click here:
https://click.daraz.lk/e/_eB5kP
Read more on exciting offers, sales, products and prices on the Official Daraz Blog Page:
https://blog.daraz.lk/