---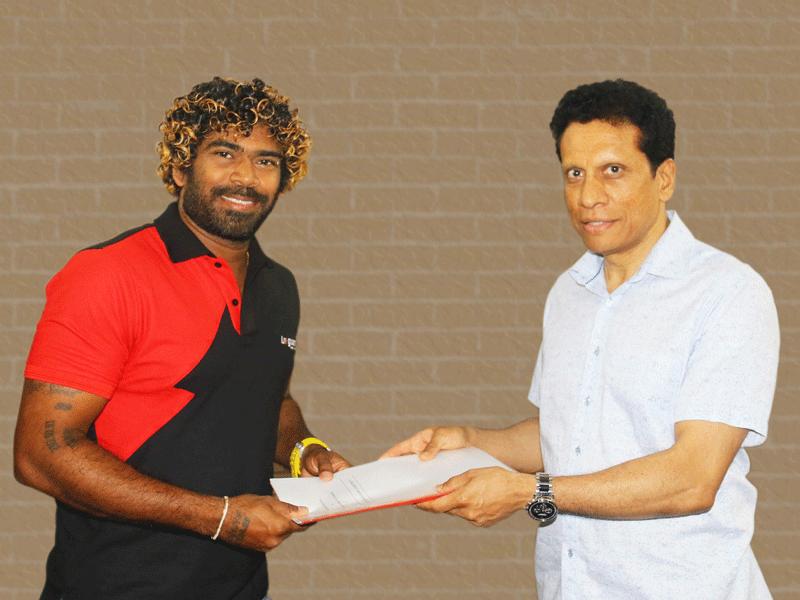 Livguard Brand Ambassador Lasith Malinga (left) exchanges the agreement with Douglas and Sons (Pvt.) Ltd Chairman Saroj Perera
Livguard Energy Technologies, the leading energy storage brand in India that also has a strong presence in Sri Lanka since 2017, recently announced its appointment of Sri Lankan pace bowling ace and former national captain Lasith Malinga as its brand ambassador.
Malinga is currently Sri Lanka's best short form bowler and is the only person in the history of cricket to take four wickets in four balls.
With his slingy action and toe crushing yorkers, it is no surprise that Malinga has four hat tricks to his name and is the second highest wicket taker in all T20 cricket. Synonymous with speed, power and style, he is one of the most iconic cricketers of his generation and a role model for all youth to follow.
Speaking about his appointment, Malinga said: "I am very happy to have been appointed as the brand ambassador for Livguard Automotive batteries which is a brand whose attributes of passion and innovation closely match my own. I believe this is a good brand fit for me and I look forward to working closely with them to build the Livguard name in Sri Lanka."
Commenting on the choice of Malinga as brand ambassador, DSL (Douglas and Sons (Pvt) Ltd) Chairman Saroj Perera, the exclusive distributor for Livguard Automotive batteries in Sri Lanka said: "Livguard is a battery brand that stands for power, energy, high performance and long life. These are all characteristics that closely match Lasith Malinga's, who has been a great servant for Sri Lanka cricket. We are very proud to tie up with a cricketer of Malinga's repute and together we look forward to taking the Livguard brand to greater heights."
Livguard batteries has been present in Sri Lanka since the year 2017 with an exclusive distributor DSL, along with their over 250 dealers in their distribution network. The brand's mission is to develop an ecosystem of delighted customers, committed partners, exceptional product quality and delightful service.
Livguard batteries operates under India's SAR Group which has an incredible legacy of 30 years. Within a short span of time, the brand has built a comprehensive product portfolio of inverter/inverter batteries, automotive batteries, stabilisers and solar batteries through a pan India distribution.
The brand has scaled to INR 14 billion in revenue and aims to become a top three player over the next few years. With a strong presence in India, Livguard has now extended their footprints by commencing their product supply across 23 countries worldwide.