---
The king rooster desperately vying for a seat at the top table in yahapalanaya hosted two Betel leaf secretarial ones to a grand dinner at a high-end hotel the other day, they say.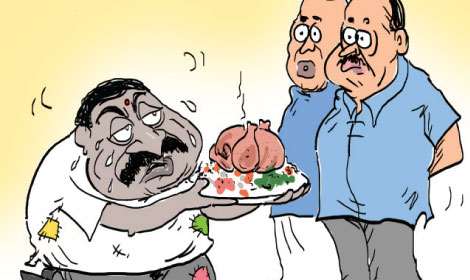 Being bereft of long- used-to power and authority coming from high office, the king rooster had been an unhappy backbencher ever since the advent of yahapalanaya and he had been sending out feelers to the new Big Boss one after another for some time. And he had arranged this grand dinner to confirm his faith in the yahapalanaya leadership.

By the way, the king rooster had made it a point to get the nod for the planned dinner in advance from the former strongman, his political lodestar, who, he knew would sooner or later learn about it.
At this dinner, the king rooster had broken down in tears while confessing to the secretarial ones from Rajarata and Magamtota the rough and tough time he had to go through for 18 long months without political power and authority, they say.

The secretarial duo who took pity on the king rooster had consoled him saying that they would do their best to convince the Big Boss of the need to assign him a seat at the top table as early as possible.