---
This panjandrum appointed to a high office thanks to his close connection to a high political authority was on a circuit inspection and some villagers had decided to entertain him with a toddy treat.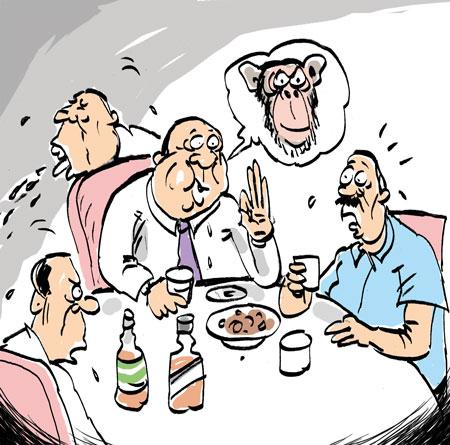 However, they faced the difficulty of finding suitable meat to prepare as the 'bite' that could go well with toddy. Someone among them mentioned monkey meat as the readily available alternative and they had sounded the guest about it and received his ready nod.

Later the panjandrum along with his aides who had accompanied him had sat at a table laid out with several bottles of toddy and meat dishes.

While enjoying toddy and the savoury snacks, the high-up had asked his aides: "Can you guess what meat we are having here as the main bite?"

His acolytes had mentioned several meat names and also some animal names without success.

Their boss had finally declared: "Monkey meat!" and asked: "Isn't it very tasty?"

The faces of all his aides had suddenly gone sour and some had looked shocked. But none of them had made a reply, they say.