---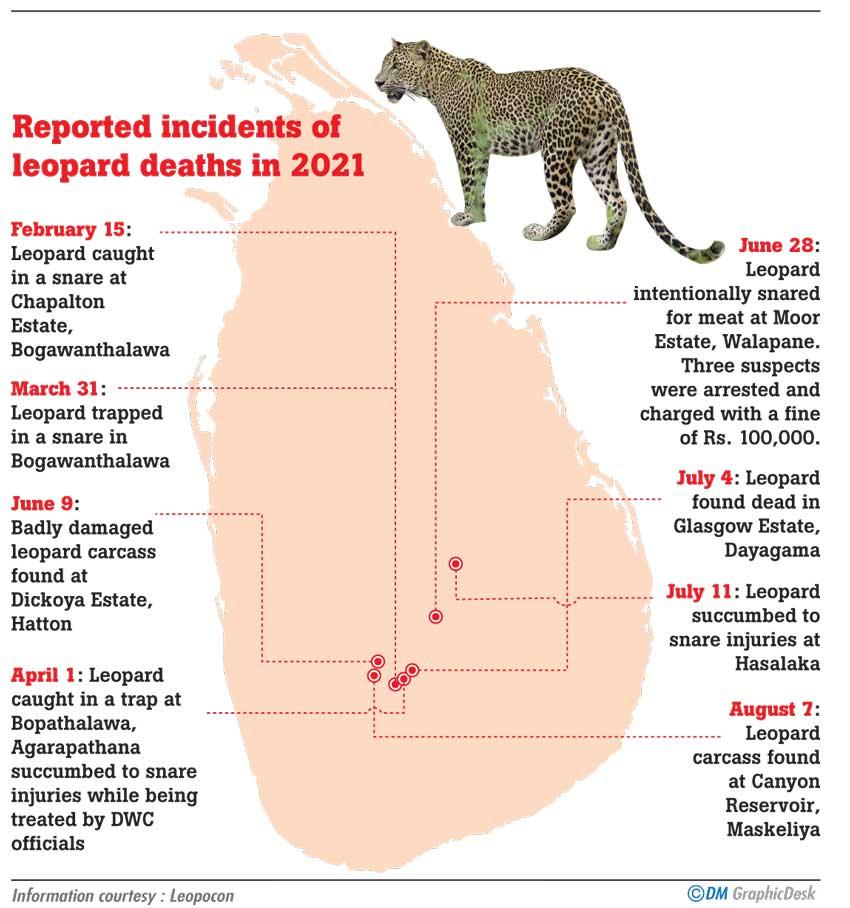 Rapidly fading 'cat' population in Central Highlands a concern
There is increasing evidence that leopards are now being killed for their body parts, as supposed aphrodisiacs, and their meat for respiratory cures
Sri Lanka has lost eight leopards for 2021 and Wildlife conservationists fear whether the protected species is on a fast track towards extinction. The recent incident was reported from Maskeliya where a leopard's remains were found floating at the Canyon Reservoir. Wildlife officials failed to arrive at a conclusion regarding the cause of its death since the carcass was five days old and was heavily bloated due to autolysis. However a majority of leopards are trapped in snares and they succumb to injuries by the time wildlife officials reach the scene of the incident. In 2020 Sri Lanka lost 12 leopards and the future of the spotted cat looks worrisome in this backdrop.

Worsening situation
"The situation is getting worse and two things that are changing are people's attitudes and the way in which people use land," opined Dr. Enoka Kudavidanage, Senior lecturer in Ecology and Conservation Biology and Director of Tropical Ecosystem Research Network. "Leopards are using human-dominated landscape and people continue to perceive the leopard as a threat. Therefore they use snares etc. to keep away from leopards. Conservation efforts are good, but people need to be educated. Law enforcement needs to be strict," said Dr. Kudavidanage.

She further said that most people are doing their best even if resources are limited. "What I feel is there needs to be more manpower. We need trained people or civilians in villages who can assist in these efforts. Various people are trying various methods to educate people on human-leopard co-existence, but we need a standard method that could be followed, so that people reduce encounters. If dogs keep running around the houses at night and people keep walking at night they are prone to face more encounters with the cats. Therefore there needs to be proper landscape management. We need to reduce exploitation of the animal and this is where law enforcement comes in. On the other hand a proper sweeping of snares is required, like how mines are swept in order to protect the animals while also investigating and catching people who lay snares" she said.

Killed for body parts
The Wildlife and Nature Protection Society (WNPS) is dismayed and saddened by the 8th death of a leopard in 2021: one dead leopard for every month this year. The latest to succumb to man's cruelty was discovered floating in the Maskeliya Canyon Reservoir on August 7 (Saturday). The Department of Wildlife Conservation (DWC) suspects that this leopard may have drowned while crossing the reservoir. There is increasing evidence that leopards are now being killed for their body parts, as supposed aphrodisiacs, and their meat for respiratory cures; neither of which property has any credence in medical science.

This year, on August 1 Sri Lanka celebrated its first National Day of the Sri Lankan Leopard, Panthera pardus kotiya, a unique subspecies that we are blessed to have roam our beautiful forests. Sri Lanka Leopard Day, which will be celebrated annually, was declared based on a proposal made to the DWC by the WNPS, Sri Lanka's oldest (and the world's third oldest) Nature Protection Society. The Society spokesperson explained that research undertaken by Dr. Sriyanie Mithrapala led to the revision of the naming of Sri Lanka's leopard, with Panthera pardus kotiya being declared a unique subspecies.

WNPS urges the Ministry of Wildlife and Forest Conservation to do all it can to protect the country's leopard species and to strictly prosecute its National Laws to stop these mindless killings. Most leopard deaths have occurred in the Hill Country where illegal traps, placed on Tea Estates, have been the main cause of killing. The WNPS believes that in addition to the Law, greater awareness must be created amongst Estate workers on the value of the leopard to this country, and of the need not to fear these magnificent creatures, if they are left alone, and undisturbed, to roam their ancient paths. Plantation Companies, too, must take responsibility to ensure that their properties are not used as the killing fields of this iconic species, a natural, National treasure..

State level interventions to protect the animal
However when contacted Minister of Wildlife and Forest Conservation C. B Ratnayake affirmed that all steps would be taken to protect the leopards. "We will provide resources to the Department of Wildlife Conservation to expedite rescue missions. Sometimes they take time to visit the site and rescue an animal and therefore we have decided to set up Wildlife offices in Gampola, Hasalaka and Hatton. There are plans to get down more ambulances to be used in rescuing animals and to establish a veterinary hospital. We hope to obtain foreign assistance to train more people in rescuing animals and increase manpower," the minister said.