---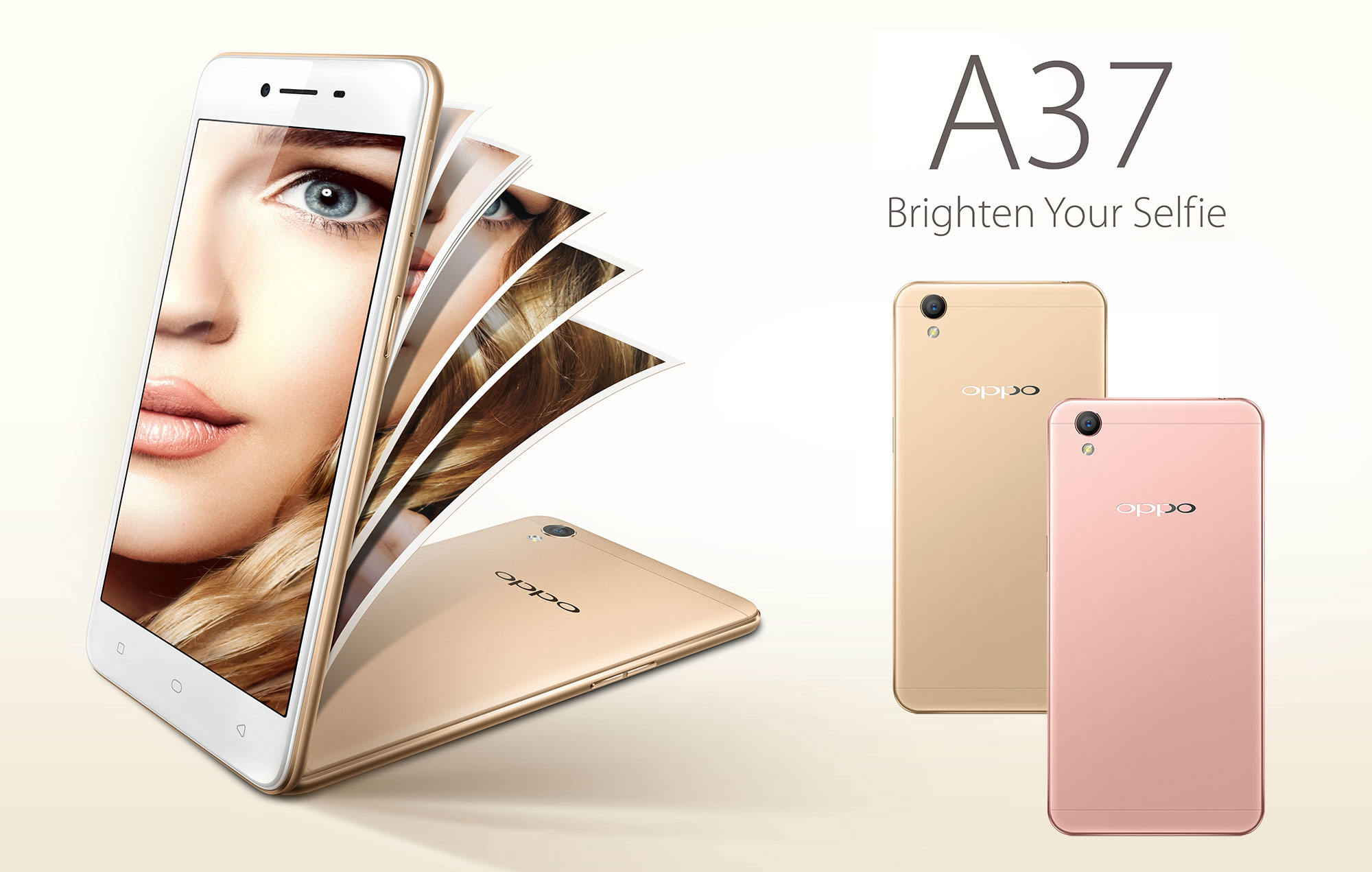 Bringing consumers superior photography and meticulous design at an incredible price, OPPO has announced a new entry-level device, the A37. The A37 boasts two high-performance cameras, eye-catching design and the upgraded ColorOS 3.0.
OPPO is a leading global technology brand dedicated to providing consumers across the Americas, Africa, Europe, Oceania, and Asia with pioneering products that never fail to inspire and excite. OPPO mobile phones are currently available in over 20 markets, with the brand already registered in 116 countries around the world.
The A37 uses a 5 MP front camera with a 1/4-inch sensor and OmniBSI+ (backside illumination), while its extremely large 1.4 μm pixels, the biggest available in this price segment, increase light sensitivity and reduce noise. Coupled with the Screen Flash feature, which emits a flash from the display, these features ensure that the A37 takes bright and natural-looking selfies in any condition.
The Beautify 4.0 technology has been optimized using data from millions of users, and now supports 7 different levels of intelligent beautification, with two modes for different skin tones. The A37 sports an 8 MP rear camera with a 1/3.2-inch back-illuminated sensor and the same large 1.4μm pixels as the front camera, for maximum light sensitivity and minimum noise. The large pixels also work to bump up the dynamic range and give pictures a vivid depth. Meanwhile, with Ultra-HD mode, the A37 shoots five photos consecutively and combines the best parts of each, creating 24 MP photos with breathtaking color and detail.
The A37 features Palm Shutter. By simply waving a hand in front of the camera, users can activate an automatic photo countdown, with a customizable duration. The A37 also comes packed with 9 awesome filters and a host of shooting modes, including Double Exposure and Slow Shutter, opening up endless possibilities for creativity and style.Its 5-inch display is covered in 2.5D Corning Gorilla Glass 4th generation, giving it a premium look without sacrificing premium durability, while the flawlessly smooth rear surface is expertly calibrated for a comfortable, stable grip.
Fitted with an internal high-strength magnesium aluminum alloy framework, the A37 weighs in at only 136 grams. It's an impressively balanced weight, giving the phone a beautifully light, but never insubstantial, feel.
The A37 cruises on 2GB RAM and a quad-core 64-bit Snapdragon processor, for a seamless multitasking experience. It supports 16 GB ROM, expandable by another 128 GB, giving you plenty of room for all of your favorite media and memories.
An expandable memory slot sits alongside two additional 4G SIM slots supporting speeds of up to 150 Mbps. Keeping life balanced is a breeze with the new triple-slot tray.
The A37 uses OPPO's all-new ColorOS 3.0, fully upgraded for faster, smoother and more efficient performance. Combining a leaner design and purpose-built optimizations for a range of common use scenarios, ColorOS 3.0 has a running speed that's more than 20% faster than the previous ColorOS 2.1. ColorOS 3.0 is also customized for power saving, with an automatic cleanup feature that adapts to user habits to keep their battery going strong throughout the day.
ColorOS 3.0 supports a special Privacy Protection feature, allowing users to easily designate any contacts, apps, files, or other content as private.
The brand new OPPO A37 will be available in the Sri Lankan market by mid July. Customers will be able to purchase the phone at OPPO's exclusive showrooms in Dehiwela (0112717302), Moratuwa (0112645402) and Negombo (0312222171), as well as authorized dealer outlets. The A37 may also be purchased online via website such as, Takas.lk and WOW.lk.
For further information please visit www.oppo.com/lk/ and for any enquiries regarding press collateral including FAQ's and images, please contact Miss. Kalpa Pathirana, Senior Media Relation's Executive of OPPO Sri Lanka via [email protected]