---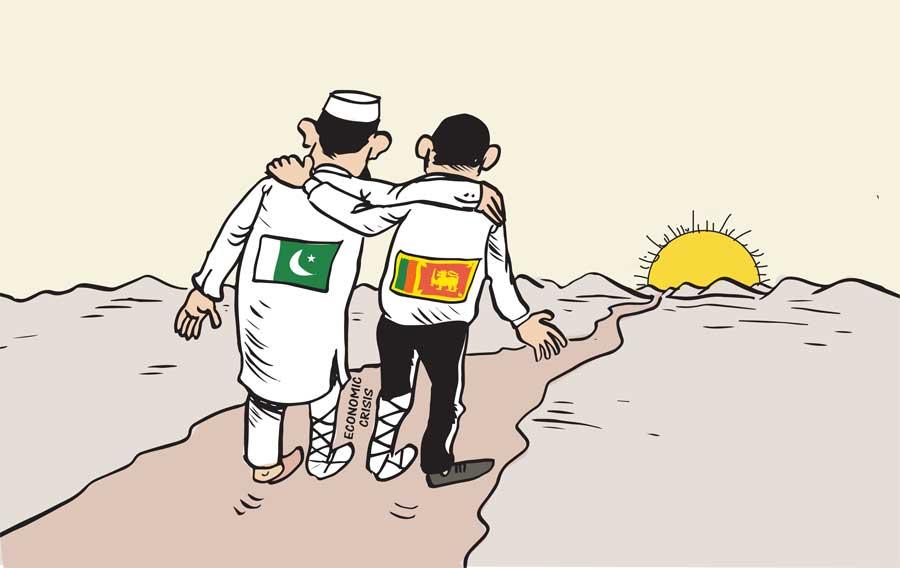 Sri Lanka and Pakistan have enjoyed close ties as two nations despite the duo being geographically positioned in a hotbed of activities centring around a vital sea route in the Indian Ocean. When other nations send representatives here to show military might and further business and geographical interests, Pakistan arranges for one of its representatives already in this country to remind the islanders that they can always rely on a 'true friend'; also from the South Asian region.
Recently, Pakistan's Ambassador to Sri Lanka Maj. Gen Umar Farooq Burki made a tour of the Eastern Province and distributed essentials to the needy. He met a cross-section of people from the society and also military officials; Burki's tour aimed primarily at discussing issues of mutual cooperation and promoting the welfare of the Eastern people. Burki's tour comes days after India's Finance Minister Nirmala Sitharaman made a visit here to participate at the 'NAM 200' event organized to mark two centuries after the arrival of Tamils from India who were employed in estates. Sitharaman also addressed the India-Sri Lanka Business Summit among other functions she attended. Most of her itinerary here included activities which are of interest to the Tamil Nadu Government; which in the long run would help cooling of tensions of Tamils in South India who agitate against atrocities committed against the minority Tamils during the island's civil war.

Pakistan has no such hidden interest in Sri Lanka. There is more of a give-and-take policy and promoting of business interests when state representatives of these two nations meet.
Even in the past, Pakistan's commitment to nurturing ties with Sri Lanka has been unquestionable. From the time when Prime Minister D. S. Senanayake made a visit to Pakistan in 1948 and established a lasting bilateral relationship, these two nations have stood by each other at all difficult times and challenges. When it comes to Sri Lanka's issues at the United Nations Human Rights Council- where several resolutions were moved against this nation-Pakistan has always stood by its close friend. Pakistan has constantly voted against the move by the UNHRC to initiate an investigation against GoSL's military operations against Tiger rebels.

In 2016 Sri Lanka avoided joining a move by other nations to boycott visiting Pakistan for the 19th SAARC Summit. The reason given by most other nations led by India was that Pakistan in terms of 'area' was not conducive to host such a summit. The summit was eventually cancelled, but Sri Lanka threw its weight behind Pakistan. The cooperation shown for each other has continued at other international forums. A strong brick in this bond between Sri Lanka and Pakistan is respect for each other based on sovereignty and equality.
Ambassador Burki was well received by the people of the East. The Pakistan Government through this initiative presented some schools in the area with furniture and sports equipment among other things. These presentations were made to the people of Sri Lanka irrespective of religion, gender and ethnicity.

This is a time when Sri Lanka needs strong neighbours who can support the island's economic recovery phase. Ambassador Burki has emphasised during his tour of the East that this province brings full of opportunities in areas like tourism, hotels, local small businesses and that Pakistan was looking for joint partnerships and training ventures with the Government of Sri Lanka, as reported in the local media.

At a time when other ambitious countries have invested in Sri Lanka with the sole motive of taking home the profits, Pakistan has suggested about ventures in the past to Sri Lanka where both nations can exchange natural resources without having to trade in US Dollars.
Pakistan has always been a true friend of Sri Lanka. Even in other areas where there is the least political influence, like in cricket, the two nations have built strong relationships. Both countries supported each other's cricket interests during turmoil; Sri Lanka sent teams to Pakistan during the terrorist attacks in 2009 and vice versa when Sri Lanka was in the thick of its civil war.
Sri Lanka and Pakistan will continue to cheer each other in successes and hold hands when adversity strikes.