---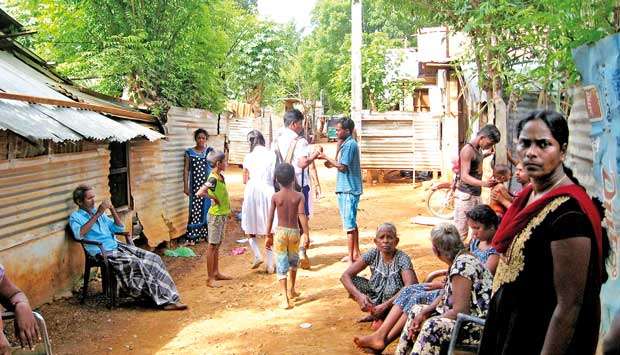 "We have initiated as a Government an impartial development programme this country needs. As we have already initiated Gramashakthi National Movement, in a few weeks we would initiate the

Gamperaliya Development Programme, that would include all Grama Niladhari Divisions in Lanka," said President Maithripala Sirisena in an advertisement aired a few days ago in the Sinhala Channel of Sri Lanka Rupavahini Corporation.

The Prime Minister has also been talking of 'development' both in Parliament and outside on numerous occasions.
A complete breakaway and go after new and clean Presidential candidates-none is possible within this free market economy


The term 'development' perhaps is the most hacked term both in English and Sinhala languages, after 'socialism' faded off from vogue in recent decades.
Maybe it is less so in the Tamil language, for during the past 30 years and more, they were caught in a brutal conflict that did not allow the Tamil society to know what 'development' is, other than 'development' of the armed conflict.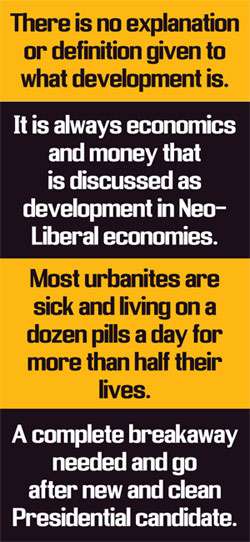 Meanwhile, in the Sinhala South, though every Government promises 'development', it still remains as elusive as Yahapalanya of the present (dis)unity Government.
The irony is, though starved of development that is promised at every election, as I discussed in my article last week, there is no mention of 'development' in the mad search for a 2020 Presidential candidate either.
Thrown about quite freely by both politicians and economists, there is no explanation or definition given to what 'development' is.
At most, one would know of 'development' that is talked of, is restricted to the 'two word' attributive adjective 'socio-economic'. That does not lead us to any complete and real understanding of what 'development' is, in this unrestricted free market economy.
What is nevertheless meant by innuendo is that with 'development' comes more money and better buying power.
'But for whom' is yet another important question that is vaguely answered or left out without answering.
It is always economics and money that is discussed as 'development' in Neo-Liberal economies.
It is all about measuring 'economic growth' with the growth of the urban middle-class. This urban growth that comes with expanding and increasing 'consumer choice' has turned people into 'consumers' with an insatiable appetite.
Life is slipping through a cesspit of errors and follies, wholly created by inept political leadership still revered by the majority of the Sinhala Buddhist urban middle-class, sponsored by the filthy rich


Chasing after they have made most urbanites sick and living on a dozen pills a day for more than half their lives.
That again has been turned into a peripheral but lucrative industry in urban middle-class life with 'fitness centres' mushrooming and a very health conscious urban population creating one of the most profitable private sector industry; the private curative health sector dominated by the medical profession.
None discusses all that as ailments of this unrestricted free market economy.
Apart from the growth of this mostly sick urban middle-class, 'development' is talked in terms like, 'per capita income, inflation, GDP, a balance of payments, increase in exports over imports' etc. and with 'year on year' comparisons.
The addition of the Eight Millennium Development Goals (MDG) that range from 'halving extreme poverty rates to halting the spread of HIV/AIDS and providing universal primary education' have not solved any major issues; people in the world have been struggling with, in this Neo-Liberal world.
Their extension in 2016 as '2030 Agenda for Sustainable Development' will not mean anything more to the poor in this world. In Sri Lanka, they are not mentioned even in passing by the leaders of this Government in any of their 'development' programmes or statements.
As argued many times before, free-market economy not only provides space for majoritarian extremism and is inherently corrupt; it is also a wholly city-centric consumer market.

Therefore 'development' is reduced to a growth of a market economy that thrives with urban life and is measured accordingly on economic data per se.
This leaves out the larger majority of the rural society and the urban poor.
'Poor' also has a much-distorted count in national data. Poverty line drawn every month and has a national average was calculated as Rs. 4,532 for 2018 April and is said to be enough for "a person to fulfil the basic needs" during the whole month, according to the Department of Census and Statistics (DC&S).
The not-so-implied-assumption is that a family of four with two adults earning a total of Rs. 9,064 per month in April, is not a poor family in Sri Lanka.
The contradiction is, this same DC&S in its 2016 Household Income and Expenditure survey calculates the percentage of income spent on food as 34.8 per cent and would, therefore, mean, a family just above the poverty line would live with Rs.3,154 for food in a single month.
This thus raises the serious issue, 'what is poverty?'
Is it simply about how much a person or a family earns to live with Rs.3,154 spent on food per month?
If that is the income necessary to keep a family above the poverty line, Sri Lanka should be the cheapest country on this planet to live in.
It was 64 years ago in 1954 Darrel Huff, a journalist authored the bestselling book on statistics titled "How to lie with Statistics".
Huff tells us how all these numbers, pie charts and bar charts are used to paint fantasies.
Talk about the reduction of poverty and about economic growth. In this Sri Lankan, free market economy poverty is now said to have dropped to 5.4 per cent.
To break off from all this Neo-Liberal jargon on 'development' we need to redefine poverty and development.
Poverty is not about how much money a family should earn to meet their meagre food budget. Poverty is about the poor quality of life and development is about creating access and space for continuous improvement in living a quality life.
Apart from adequate food with a minimum required nourishment, decent housing with basic facilities, health, education, cost of daily commuting and clothing, a decent human life is also about recreation and right to cultural engagement as individuals and collectively as a community.
"Development" therefore is about planning to provide people access to such socio-economic and cultural life without inequalities. Without discriminations in opportunities and without any bias or partiality on gender, caste, age, geographical location, religion or ethnic differences.
The most unpredictable and 'hard to think' issue in Sri Lanka is, how and who would initiate such policy and programme. In a recent Tweet that I got engaged with, Prof. Siri Hettige stressed the need for planning development.
"Which Govt. institution in Sri Lanka should initiate and lead a programme on the development and implementation of strategic plans for all State institutions?
This I guess can be done within months" he tweeted. The fault line there was his stress on 'Government institutions'. What we fail to understand is that 40 years of this unrestricted free market dynamics have not only eroded the quality of the politician and his political party but has also corroded the finer mettle in our professional services.
Together, all of them have become unseen drivers of extremely corrupt regimes, whatever face and name are given to a Government.
State institutions, therefore, have no creative, intellectual and independent resources left with them.
They have Neo-Liberal experts, specialists, consultants and administrators, expected to keep the system going in tow with IMF, World Bank, ADB thinking.
For that expertise, they are well cared for within this system. That is how statistics are used as Darrel Huff explains, to paint that elusive "development" picture the people are told can be achieved.
Thus no State Institute or Agency would ever begin a new discourse in defining poverty and development that needs to break off from the 'diatribe' on free-market capitalism and socialism.
Nor is there a political leadership capable of such intellectual discourse.
Despite the PhDs, LLBs and Attorneys-at-Law, CIM and CIMA professionals, Medical Doctors and other professionals, what they in Parliament are capable of is well exhibited every time the Parliament is convened.
Sadly, the Universities too don't intellectually function as Universities should.
The responsibility for this new discourse in first defining poverty and development and then framing a National Development Policy Paper for public debate and discussion thus falls on those who want an end to this socioeconomic and political tragedy.
It becomes the responsibility of those who are willing to accept, life in Sri Lanka is slipping through a cesspit of errors and follies, wholly created by inept political leadership still revered by the majority of the Sinhala Buddhist urban middle-class and is sponsored by the filthy rich, that's growing within this free market economy.
It needs a complete breakaway from comfort zones that make noise over mega corruption and go after new and clean Presidential candidates.
None is possible within this free market economy.