---
The authorities have to prove that all these voice recordings are his originals

Ramanayake has also made some revelations regarding Prime Minister Mahinda Rajapaksa
Lawmaker Ranjan Ramanayake has a way of bouncing back from hopeless situations. He made his critics sit up and take note when he highlighted on (Tuesday), during a fiery speech delivered in Parliament, certain issues ranging from MPs holding bar permits, drug trafficking, horse racing, match-fixing and a key name in the alleged bond scam offering him a bribe. The parliamentarian said that he has voice recordings from telephone conversations to prove these claims.
He managed to keep an otherwise vocal set of government ministers silent during his speech where he portrayed himself as a whistleblower who is fighting a lone battle to expose corruption. Ramanayake has had many brushes with the law before the recorded telephone conversation controversies surfaced and even faced court cases. This time around he is being taken to task by the country's court after a pack containing CDs of his recorded telephone conversations was found. Later much of the content in these CDs went viral on social and mainstream media.
A point to ponder here is why Ramanayake waited till the 'bubble burst' for him to reveal how much he knew about corruption that had taken place in the country! Now it seems he has grabbed the opportunity to play the role of Julian Assange of Wikileaks. Assange claimed to be a campaigner for the truth. He worked with great enthusiasm and made a name as a skilled researcher. His tool to work with was the internet as opposed to Ramanayake's tool which is the mobile phone. Assange was accused of endangering lives by revealing sensitive information.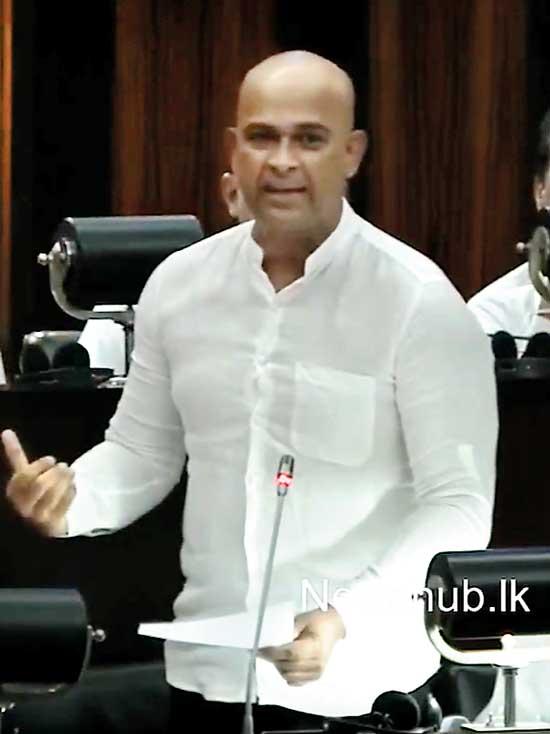 Ramanayake too has exposed the lives of many politicians to danger through his recordings that have gone viral. He said in his last speech in parliament that he has retained copies of these recordings in safe places. His claims of having in his possession conversations relating to match fixing at cricket and the claim that he has been able to uncover who was behind the bomb explosion at Sharuk Khan concert in 2005 are serious allegations that have the potential to stir a nation or topple a regime.
Ramanayake like Assange no doubt is hardworking and intelligent. Both these characters had their ways of trapping the people they wanted; most of them unsuspecting in Ramanayake's case

There are reasons to feel sympathetic towards Ramanayake. This is because he has said that he has fought on behalf of the downtrodden folks. In his speech he said that he has fought for the grievances of housemaids and also on behalf of concerned families whose children were sexually abused while being novice monks. The latter he said would expose him to untold dangers, but he affirmed it was worth fighting to expose such wrongdoings and corruptions.

However the actor turned politician warns that some of the content in these tapes have been doctored. This is where the whole episode of his expose can take a twist. The authorities have to prove that all these voice recordings are his originals and free of doctoring. Parliamentarian Hirunika Premachandra has already complained that some voice recordings in which her voice is heard have been doctored with. Ramanayake has also made some revelations regarding Prime Minister Mahinda Rajapaksa pertaining to the Premier telling him (Ramanayake) to be grateful to him for saving him from going to prison; the conversation between the two having taken place many years ago.

Ramanayake like Assange no doubt is hardworking and intelligent. Both these characters had their ways of trapping the people they wanted; most of them unsuspecting in Ramanayake's case.

It could be said that it is unethical to record a telephone conversation that's in process without the knowledge or consent of the other party. But Ramanayake told during the speech that he didn't see the importance of practising ethics when engaged in the act of exposing corruption and dealing with dishonest people. He however apologised to all those people who were inconvenienced through his revelations which are aimed at naming thieves involved in corruption. But Ramanayake must fathom that his sensitive information has gone viral and he has no control over them being doctored and shared in social media platforms. These recordings also hold sensitive information and his stance, as said in the speech, doesn't entertain ethics. This is where a regime might try to defuse the threat from Ramanayake if his actions have the potential to threaten national security, leave alone his intentions to make good triumph over the evil. One of Ramanayake's revelations-that he was able to uncover who was behind the bomb explosion at Sharuk Khan's concert in 2005 through some of his phone conversations- is 'loaded' and can agitate India. We don't have to take the pains to write in this column how much India loves its artistes and how its citizens would be willing to die for them. Ramanayake must now tread cautiously when making exposes like this; especially when they involve an Asian giant like India. For example if Rajnikanth tells a fan to kneel down, the fan would ask where he must kneel down and not why he must kneel down.

Though working hard and showing rare intelligence skills in exposing corruption, both Ramanayake and Assange have one hard-hitting question posed regarding them, "Are they campaigners for truth or attention seekers?".