---
As you read this, the Cup's fate has been decided, leading to a collective sigh of relief from cricket enthusiasts

worldwide. The uproar by Diyawanna's Papara Band, diverting attention from the Budget continues with allegations of 15 lawmakers being hired by the SLC perpetrators. Money's influential voice echoes loudly, as previously disclosed by Aloysius, citing 116 OF THE 225, who allegedly shared the CB Bond's loot, are making a hue and cry.

'…during the Cabinet meeting on August 26, 1959, the usual refreshment… glasses of milk… were handed out to the ministers shortly after midday. C P de Silva… the formidable…took a sip from his glass and began to gag violently …, and he was rushed to Central Hospital'. - The Expedient Utopian: Bandaranaike and Ceylon'—[James Manor— Cambridge1989--p 310].
From there CP, the second in command was taken to London for treatment. It was alleged subsequently that the particular glass meant for Prime Minister Bandaranaike, inadvertently went to CP. The PM was assassinated exactly a month later.

Absolutely, one can draw a comparison between Roshan R and Glenn Maxwell in their respective challenges. Roshan encountered obstacles due to the lack of support from the Government's lawyer and the President's office, akin to how Maxi faced severe cramps and played on despite being hindered by physical limitations. Could Roshan deliver exceptionally too? Both individuals showcased resilience and determination in the face of adversity.Upon assuming the Sports Minister role, he disclosed that both Gotabaya and President Ranil urged him to steer Sri Lanka Cricket in the right direction. However, there's a query about his timing in facing Gambler-den's awkward bouncers. Did he err in relying on Ranatunga, known only for bravery in saving Muralitharan against the Aussie's 'NO-BALL' tactic 25 years ago?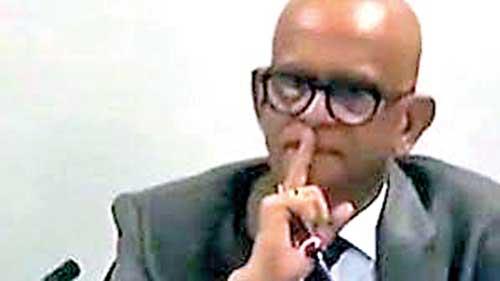 The signals and gestures COPE Chairman Prof. Ranjith Bandara displayed were quite evident and unmistakable that they were meant for his 'Friends' in SLC
Not easily influenced by SLC's financial power, Roshan aimed to address mismanagement and unethical practices within the cricket scene. Nonetheless, his apprehension became evident when he mentioned, "I will meet the president, but not go to the secretariat. I will not drink a glass of water there. It could be poisoned." This cautious approach may stem from the enduring saga of the Poisoned milk, a longstanding issue that seems to resurface within the Cabinet room.

In the pursuit of purging the Gamester's influence and eliminating parasites within SLC, did the Minister act prematurely? Did his approach lack diplomacy and tact? The Minister cited threats to his life, citing government intelligence agency findings. On the other hand, SLC administration rebuffs the Auditor General's report, asserting that the AG lacks authority. They further contend that SLC, unlike a government entity or corporation, operates as a charity. Does this stance suggest a sense of being above the law, akin to certain politicians? Let's not overlook the history where those behind an alleged attempt on a Prime Minister's life, purportedly using poisoned milk, eventually resorted to lethal force with a bullet to ensure success.

Buddharakkhitha, the main suspect in Bandaranaike assassination used his power to give the highest publicity to this fictitious story of "poisoned glass of milk", with the motive of deviating the attention of powers that be, and making them believe it to be a part of the scheme by some cabinet members and close associates, to kill SWRD.
The glorious uncertainties of cricket have unfolded on an underprepared pitch full of 'grass' stretching from Diyawanna to the ICC headquarters. There are Professors and Doctors in Philosophy, alongside those with O/Levels and no-O/Levels, on both sides of the divide.

A professor, renowned for 26 years of academic excellence in universities, leads the crucial Committee on Public Enterprises [COPE]. Recent events uncovered the professor gesticulating or signaling the accused members of the SLC, using sign language, advising them not to respond to specific queries posed by parliamentarians. The signals and gestures he displayed were quite evident and unmistakable that they were meant for his 'Friends' in SLC. Cleaning up is a must; but we need a more matured approach? But can they find a man with high integrity to handle the job?

This controversial professor, who had previously questioned a journalist [a couple of months ago at Nelum Mawatha office of Pohuttuwa,] what Basil Rajapaksa lacks to become the Executive President of Sri Lanka, now faces accusations of a Conflict of Interest charges concerning Sri Lanka Cricket.

"I conceptualized the Kandy Cricket Campus but didn't receive any payment for my involvement. I contributed voluntarily." The Cricket Board swiftly defended him, refuting any payment made for services rendered by his company. There are multiple avenues for maneuvering, especially with substantial funds in their coffers and armed with a blank cheque from the ICC, making monetary transactions are seemingly effortless. Conflict of interest encompasses both actual conflicts and perceived ones. It would have been prudent for him to acknowledge this potential conflict, publicly declare it, and recuse himself from the situation.

Albeit a few of the Professor/PhD and President's Counsels in Parliament, others usually behave in an uncharacteristic way. Most of them who acted as "your obedient servant" to CBK, Rajapaksas and Maithri are now marking time to get nominated by SJB or NPP for a slot in electoral lists along with the other 'rebels,' that included 'Viyathmaga' intellectuals. Sajith and Anura should recognize that individuals who maintained allegiance to the Rajapaksas, enduring their deceitful maneuvers until the public revolts against them, may not garner substantial voter support due to being perceived as untrustworthy.

The case will be heard by a new panel of judges after three judges recused themselves from the motion filed by Sports Minister Roshan Ranasinghe to revoke the stay order against the recently appointed SLC Interim Committee. Justice Neel Iddawela stepped down from the two-judge bench, which included Justice D. N. Samarakoon. Last Tuesday, CA President Nissanka Bandula Karunaratne recused himself, citing unfair criticism from the Sports Minister, some Cabinet members, and parliamentarians.

Budget Blues!
The government has unveiled its fiscal plans for the 2024. Meanwhile, the island of Sri Lanka experienced a significant surge in protests, with State sector demanding a raise. These well-organized demonstrations were led by Trade Unions affiliated with political parties exerting immense pressure on the government. The Cost of Living has wide-ranging implications, impacting not only the working population but also considerably affecting non-working individuals. Among those most adversely affected are non-pensioner senior citizens, who heavily relied on the meager monthly returns from their Fixed Deposits (FDs). Their situation worsened when interest rates plummeted from 15% to 10% due to the withdrawal of this Senior Cititzen's facility on last year's Elder's Day. Despite numerous appeals, no increase has been proposed in the 2024 Budget. This group lacks the organizational structure characteristic of Trade Unions (TUs), rendering them incapable of presenting collective 'demands'. Parliament should address this issue during the
Committee stage.

Writer can be contacted at -kksperera1@gmail.com