---
India last week once again spurned China's ambitious economic agenda for the world – the US$ 950 billion One-Belt-One-Road project. This time it did so in full view of the world media. A cartoon drawn by India's world renowned Satish Acharya said it all. It showed a Bengali Tiger, depicting India, proudly walking away from a road sign marked as 'Chinese Circus'. The Tiger tells China, depicted as a man with a belt in his hand, that belts are for dogs.
But India, perhaps, acted like a wounded tiger. India, which has a number of times in recent past declined China's invitation to join the OBOR, decided not to send even its ambassador in the Chinese capital for Sunday's summit attended by 29 state leaders, including Russia's Vladimir Putin, Pakistan's Nawaz Sharif and Sri Lanka's Ranil Wickeremesinghe. Even the United States and Japan sent representatives to the summit, though they too have serious reservations about President Xi Jinping's grand project.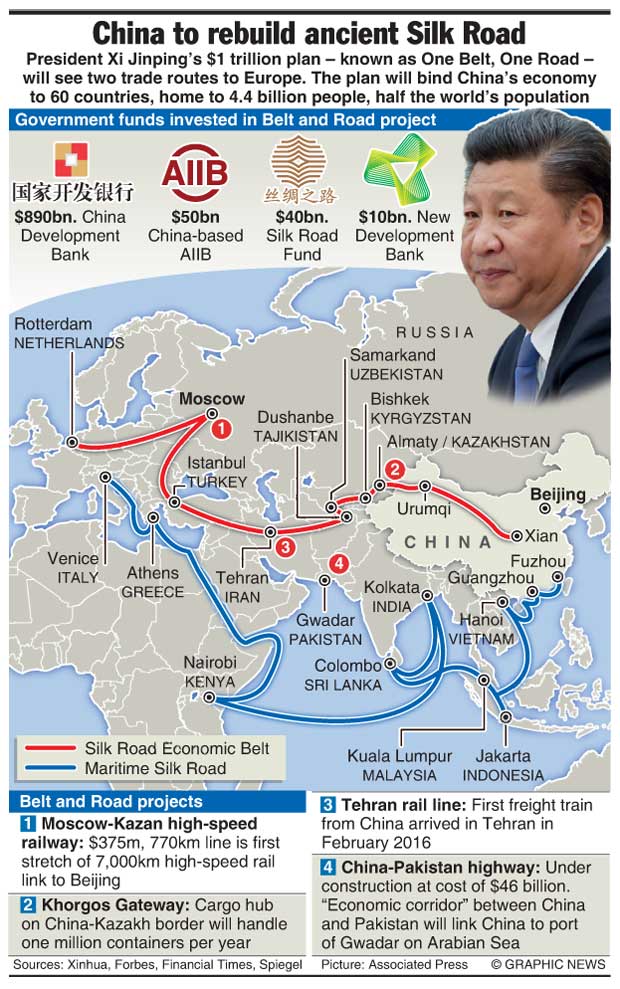 India's political melodrama was made of all the emotions -- anger, fear, disgust and also glee. Yes it was apparently elated that at the head-of-state level, the summit was poorly attended though invitations were sent out to about 100 countries. Some saw the boycott as India's way of settling scores with China -- a retaliation of sort for China's veto against India's membership bid earlier this year at the Nuclear Suppliers' Group. India fears the OBOR or the China's Silk Road project would not only expedite China's rise to the world's number one position, but also increase Pakistan's economic and military strength to pose a bigger security threat to India over the disputed Kashmir. The US$ 48 billion China-Pakistan Economic Corridor (CPEC), part of the OBOR project, is expected to transform Pakistan into a modern day Ferghana valley of the ancient silk route fame. Regarded as Pakistan's Marshal Plan, the CPEC has the potential to make Pakistan a key trade hub, linking four crucial regions -- West Asia, Central Asia, South Asia and China.

True, in the CPEC, there is more gain for China than for Pakistan. Similarly, in the OBOR, China stands to gain more than those countries which join the OBOR project. President Xi launched the Belt and Road initiative to revive China's economy which has reached saturation and in recent years has experienced a slowdown. Perhaps, it was also aimed at sustaining China's dominance over world economy. The project will also enable China to have a firm foothold in strategic locations worldwide -- a global presence much more expansive than that of the United States with all its military bases in some 30 countries. Loans China extends to OBOR member nations for infrastructure projects – Sri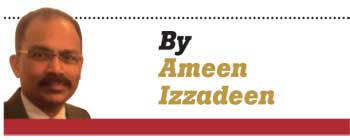 Lanka is being offered US$ 24 billion -- will give Beijing a greater clout in world politics, with loan receiving nations depending more and more on China's largesse while plunging deeper into debt crises. Whether one likes it or not, China's is only a decade away from overtaking the US as the number one global power in terms of economic performance and military strength.
But to look at the OBOR in military and political power terms alone is like missing the wood for the trees. The benefits are humongous. Increased trade through increased connectivity promotes interdependency and sustainable peace. But India has its concerns. India denounces OBOR because CPEC goes through Gilgit. India claims Gilgit as its sovereign territory, though it is part of Pakistan-administered Kashmir and its people see India as an adversary. The Narendra Modi government believes that if it joins China's Belt and Road initiative, it may be seen as granting recognition to Pakistan's occupation of Kashmir. "No country can accept a project that ignores its core concerns on sovereignty and territorial integrity," said Indian Foreign Ministry spokesman Gopal Bagley, in rejecting the invitation to the OBOR summit.
"No country can accept a project that ignores its core concerns on sovereignty and territorial integrity"

Moreover, India, which is predicted to surpass the United States' economy by 2040, sees itself as China's equal. India has now begun to think in terms of global power status. Yet its South Asian policing territory has severely been infringed upon by China and it lacks the necessary power to check China's military presence in South Asian waters.
Chinese submarines are regularly spotted in the South Asian seas. It was only some ten days ago that Sri Lanka declined China's request to dock a military submarine at the Colombo port while the Indian premier was in town. In 2014, the then Sri Lankan government allowed two Chinese submarines to visit Colombo. One such visit was when Japan's Prime Minister Shinzo Abe was in Sri Lanka.
The bottom line is there is a cold war between India and China in South Asia. Sri Lanka has wittingly or unwittingly allowed itself to become a key theatre of this cold war. To what extent protests against the Hambantota port deal and the Trincomalee oil tank lease are home-made and to what extent they are sponsored by India or China are key questions that Sri Lankans should ask themselves. Sri Lanka needs the support of both India and China to overcome its economic woes and challenges it faces at international forums over allegations of war crimes.
Prime Minister Wickremesinghe by attending the OBOR summit, a day after being a gracious host to Modi in Sri Lanka, has displayed an equidistant foreign policy vis-à-vis China and India. Sri Lanka which is a key hub in the OBOR project should say 'yes' to trade but 'no' to any military or strategic ties with any big power. But this is not enough. Sri Lanka needs to work towards ending the cold war between India and China, just as the Sirimavo Bandaranaike Government played a productive role in ending the 1962 India-China war. Sri Lanka, which often finds itself in a dilemma vis-à-vis its ties with India and China, should persuade India to join the OBOR. India should stop taking pride in its strategic importance to the United States to check China.
The way forward is for all Asian economic powerhouses – China, Japan and India – to become partners in making Asia the centre of world growth just as Europe had been since the end of World War II until recently. OBOR should lead to an Asian economic union. Connectivity and inclusivity are the passwords to the next level in the world economy's forward march.
China wants India in the OBOR. If India can join the China-led Asian Infrastructure and Investment Bank (AIIB), be an equal partner in BRICS – an economic cooperation grouping which also includes Brazil, Russia, India and China—and appoint an Indian as the governor of the BRICS bank in Beijing, then why can't it become an OBOR member and be a partner in the coming world trade revolution? Forget Gilgit. It is a fait accompli; India won't get it. But OBOR is an opportunity that awaits India.