---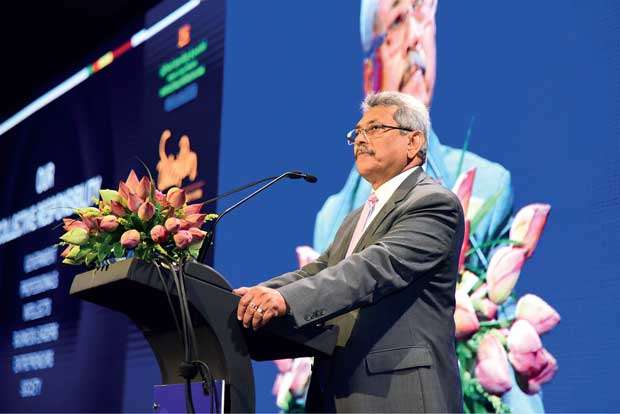 Gotabaya Rajapaksa
It's crystal clear that Rajapaksa siblings have been endeavouring to grab ruling power once again
Only US$ 863 million have to be paid for the debts that were borrowed after 2015
US$ 4,285 million have to be paid in 2019 out of which UD$ 3,315 or 77% of the repayment are for the debt obtained during the tenure of the Rajapaksa regime
The salary of all public servants will be increased by 107% in 2020 to that of their salaries in 2014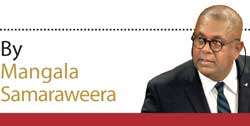 Former President and Kurunegala District MP Mahinda Rajapaksa who is responsible for ruining this country by allowing his family relatives and cronies to plunder the country's economy and allowed former Defense secretary Gotabhaya Rajapaksa to unleash terror through the white van culture that isolated the country internationally, now seems to be engaged in an untiring effort to throw the country again into 'Vipath Maga', the destructive path.

Gotabaya Rajapaksa who invented white van culture in Sri Lanka, that attracted world attention, has said recently that the rulers and the public officials should be free of corruption. Gotabaya, who could be considered as the most corrupted and dangerous public officer ever appointed in this country, is now talking like a child after rebirth. Several Cases are being heard in Courts and investigations are carried out by the Police against him at the moment: The corrupt MIG deal, plundering public money to construct memorial museums and name them after his parents, unleashing assaults on journalists and enforced disappearances, instigating corruption and terror and maintaining an illegal armory thereby depriving the Government of its due income, are some of them.

Instead of proving his innocence before Courts against such charges levelled against him, he has retained leading lawyers to obtain anticipatory bail orders. It is not only these charges that are against him charges of the kind are also being investigated against the other members of the Rajapaksa family. It's crystal clear that Rajapaksa siblings have been endeavouring to grab ruling power once again by misleading the public because they are impatient to shove these legal cases against them under the carpet and exploit the national resources once again, with no love for the country.

Not only that, they have been envious of this Government as we were able to strengthen the local economy despite many challenges after 2015. They have also been fabricating statistics and distorting the truth in an attempt to mislead the public.

Even in the face of such challenges, the Government has been able to strengthen the economy of the country and proven that its administration is better than in the past. When there was an economic development programme, supported by the private investment in the 1990s, the export earnings were 30% of the Gross Domestic Product. But they never say that our Government was compelled to take over an economy with a dwindling export income of 12% in 2014. Not only that, they do not say that our Government took over a debt-ridden economy!

Kurunegala District MP, Mahinda Rajapaksa has charged that the Unity Government has to make the highest recorded debt repayment of US$ 4.2 billion in 2019 in the history due to the debt crisis created by the Yahapalana regime. The following fact file would help Mahinda Rajapaksa restore his lost memory.

After Independence in 1948, 2018 marks the year where the highest amount of foreign debt has to be paid. The total foreign debt to be paid this year is US$ 2,845 million out of which US$ 1,789 million has to be paid for foreign debts; which were borrowed before the year 2015. An installment worth US$ 1,056 million will be paid for the foreign loans borrowed after 2015. Accordingly, 63% of debt installments to be paid this year are repayments of debts that had been borrowed during Mahinda Rajapaksa's tenure as finance minister. It was at the level of 75% in 2017.

This crisis would further worsen next year. US$ 4,285 million have to be paid in 2019 out of which UD$ 3,315 or 77% of the repayment are for the debt obtained during the tenure of the Rajapaksa regime.

Another US$3,768 million will have to be paid as loan installments and the interest in 2020 out of which 77% or US$2,905 million amount to the debts that were borrowed before 2015. Only US$ 863 million have to be paid for the debts that were borrowed after 2015. In 2021, 83% of the foreign debt installments will have to be paid to repay the debt taken before 2015. In addition, even in 2030, 73% of the repayments will go to pay the debt that were obtained during the Rajapaksa regime for the waste, fraud and corruption committed by the oligarchies of the Rajapaksas.

Loans obtained for election work

The loan installment to be paid in 2019 includes a US$1,000 million which was obtained on January 6th, 2014 at 6% interest to be paid within five years and, a US$ 500 million obtained on April 7th, 2014 at an interest rate of 5.1% to be paid within five years. These two loans, amounting to US$1,500 million and obtained at commercial rates, will matured in 2019 and the entire loan has to be repaid in bulk with full interest. The Mahinda Rajapaksa regime obtained these loans in a hurry in 2014, not for the development work, but for the election where they lured unsuspected voters thereby distributing items such as 'Sil Redi'.

After this Government was voted into power, it has obtained foreign debts worth US$ 12 billion during the last three years and, 6 billion out of which was from International donor Agencies and under bilateral agreements at concessionary interest rates. They have been spent on various projects. These loans were taken neither under commercial basis nor for consumer purposes as Mahinda Rajapaksa attempts to interpret.

12. 48% out of the total foreign debt obtained after 2015 have been used to repay the debts that were borrowed during the Rajapaksa regime. Although this Government was destined to shoulder such a heavy debt burden in 2015, it has been able to take steps to implement development activities at a fast pace than that of the Rajapaksa regime thereby assuring more direct benefits to the people.

The allocations made by this Government for education, health and housing are the best proof to such claims.

(Allocations in Rupees billions)
Although 1.8% of the GDP was spent on education in 2014, it was gradually increased up to 1.9% in 2017. It will further be increased up to 6% within the next few years. The allocation for health will be increased up to 3.5% of GDP within the next few years. The allocations for public welfare have been increased to 265 billion rupees in 2017 from 165 billion rupees in 2014. It's an increase from 1.6% to 2% of GDP.

Salary increments

Soon after this Government assumed power, it gave a pledge to increase the salaries of the public servants by Rs 10,000 rupees because their salary hadn't been increased by even a single cent since 2006. This Rs.10, 000.00 increment has been transformed according to a 1:4 scale. Thereby the salary of all public servants will be increased by 107% in 2020 to that of their salaries in 2014.

Comparing to the prices of powdered milk, domestic gas and fuel in 2014, they are still at a lower level and, when public servants' salary is increased by 107% in 2020, I reiterate that it will help people to increase their income and maintain the cost of living at a low level. Although prices of diesel, petrol and kerosene were increased recently, people do not forget that even the current prices of such items are lower than that of the prices that prevailed during the Rajapaksa regime.
The economy, during the previous Government which was handled by their cronies and henchmen, didn't have any proper system in place to implement economic development in a manner that would bring direct benefits to the people. The Rajapaksa siblings, who ruled this country under such a background, have been attempting to regain power by throwing the people into 'Vipath Maga' the destructive path. Therefore we urge the people to defeat such attempts and rally round the Government's agenda to build a strong economy and a rich country by the year 2025.

(The writer is the present Finance and Media Minister)