---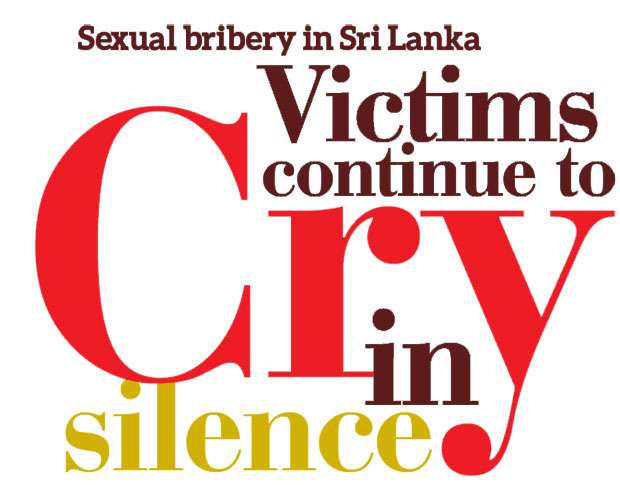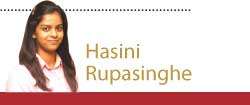 A recent report carried out by a non-governmental organization stated that 90% of women in Sri Lanka are sexually harassed in public buses and trains. Rape and sexual abuse cases are reported by the media and heard by courts in big numbers every day. A widespread practice, which is relatively unspoken of, but adds to the list of how women are victimised because of their sex is sexual bribery
Bribery isn't a strange or unconventional activity when considering the institutional structure of Sri Lanka. Hardly anything happens in this country without bribes.
Although putting a stop to bribery and corruption and institutionalising the practice of prosecuting fraudsters related to monetary bribes more efficaciously have been in the forefront of the Government's policy manifestos, barely anything has been done to identify and punish perpetrators of sexual bribery. Victims keep their traumatic experiences to themselves to avoid social blame, so most often the offenders continue with this practice with the women who come to their assistance. With regard to cases where women have been bold to report matters to the police or other authorities, the biggest punishment given to such corrupt officers hasn't been anything more than a transfer.
Imagine if one were a single mother, raising a son, and working as an activist in one's community, apart from living alone. She often interacts with the police with regard to community work.
One day when she visits the police station, a senior police officer shakes her hand longer, pinches it, smiles at her in a suggestive way and winks at her. It can be assumed that the majority of the public won't consider this as serious, but just put yourself in the same situation and think whether you should be treated that way? Would you think on the same lines as follows if you were a victim?
"We take many victims to court, but when it happened to me I did not challenge it in court. I know I could have made a complaint at the Human Rights Commission without going to the police, but I did not do it. I feared that everyone would come to know and start sensationalistic gossip. I have a grown-up boy and if he hears about it, it will be bad because there have been many stories made about me in the community already. It is not easy to live in a community that sets such high moral standard for single women like me. A slight deviation from such moral expectations can lead to us becoming labelled as prostitutes or seen as those desperate for sex."
Suppose there is a 32 year-old woman, crippled by polio, and has her mother as the only member of the family. The livelihood for her and her mother is sewing. The respectable Justice of Peace in the area offers his office to her to sell her products. Her business gives her a satisfactory profit to maintain her family. After sometime, the JP calls her at midnight and starts showing her nude pictures and tries to touch her. Unable to continue with the business at the JP's place, she moves to her home, despite the risk of losing her profits. She is unaware of laws that can help her take legal action. Are you familiar with this explanation?
"Well laws can be brought about, but poor people like me can't use them. From where will we get the money to hire a lawyer and then how do we face the society? Do we have evidence to prove these things? Can I just tell the court that he showed me obscene pictures and touched me? What would be the punishment then? Even rapists are roaming around freely on the streets these days. When he gets out and wants to hurt me, who will protect me?"
What if a person is a widow with seven children and earns money to feed the family by making sweets and palmyrah products at home. During her attempts to reconnect the electricity line, the electricity board official whispers in her ear and inquires whether the connection is needed immediately. Since she answer in the affirmative, and having seven kids at home, he says that he would get her the connection, but she will have to do him a favour – the favour being to take care of his needs. As she misconceives the request to be a monetary bribe and asks how much he wants, he responds, 'you said you have seven children and you don't know what a man needs?'
To this date, her house doesn't have electricity and her children study using kerosene lamps.The following sounds like another story which is familiar.
"We are surrounded by disgusting men like him. Just because I have seven children does not mean I am ever ready to have sex with these men. That man will burn in hell fire one day. I told my elder daughter and my mother-in-law about this and now I am telling you. Can anyone help me get electricity by telling this? Why should I go around talking about this shameful event?"
These instances associated with sexual bribes were recalled by some of the women interviewed by the Centre for Equality and Justice (CEJ) as part of an exhaustive survey conducted in different parts of the island. The CEJ has observed the different contexts giving rise to these unfortunate incidents and the reasons behind those who suffered from these experiences not seeking legal advice.
What is 'sexual bribery'?
Sexual bribery is an improper benefit that is sexual in nature, demanded from a person by men in positions of power in exchange for a service or a favour. It is a category under the overarching concept of sexual exploitation (the solicitation of a sexual act in exchange of remuneration)
Reasons behind the increase in sexual bribery
According to the findings of a study, one obvious reason for sexual bribery of women in Sri Lanka is the patriarchal structure which is applicable to all communities irrespective of ethnicity. It was stated by a subject in the research, who is actively engaged in social and political activities, that women are merely sexual objects in the eyes of men and that females are not appreciated for the work they do. Gender and ethnicity are other reasons which have given rise to sexual exploitation and bribery. This is particularly true in the war-torn areas where members of the police and the army abuse their power on Tamil women and control their ability to claim rights. As observed in the study, most sexual bribery cases relate to women who are in vulnerable, destitute positions in life and have tried to access some kind of service from an institute. The absence of a man in their lives has added to their vulnerability and made them targets of men who take advantage of them and seek sexual favours.
The increasing number of female-headed households caused due to the deaths or disappearances of male family members of war-affected families has also resulted in such women being sexually bribed and exploited. The study underscores the failure of the Government to investigate into and respond to such experiences. There are plenty of such instances associated with the process of resettlement and development plans where the participation of women in the decision making levels has seen women being victimized. The lack of gender-sensitivity in the judicial system along with the lack of efficiency in the law enforcement mechanisms in the country is also catalysts in this process.
Stigma associated with sexual crimes
As it is evident from the instances mentioned in this article, CEJ observes in an analysis that many women did not even want to talk about the incident to a close friend or member of the family fearing that they would be found fault with for behaving inappropriately. In a few cases the mother, neighbour or mother-in-law have found fault with them with regard to their clothing or having gotten too close to the officer who has demanded sexual bribes. Single women fear that relating their experiences to someone would bring shame upon them because the community expects them to behave in a certain manner. Women with daughters also worry that the same fate would fall on them and would cause them problems when they marry.
Laws relating to sexual bribery
Currently, in Sri Lanka, the only law which can be used at least remotely is the Bribery Act of 1954. The act criminalises the act of receiving and offering any gratification by a public officer as an inducement for performing a particular task. The punishment stipulated for such an act is a prison term not exceeding seven year and a fine not exceeding Rs. 5000. It is only vaguely possible from a positivist point of view that sexual bribes can be considered as a form of gratification within the meaning of the bribery act. A person if convicted of such an act will be subject to punishment. Yet, in Sri Lanka vs Abdul Rashak Kuthubdeen, it was held by the High Court that demanding sexual favours was held as being covered under the Bribery Act. The merely vague possibility of a sexual bribery to be considered a form of gratification within the meaning of the Bribery Act also discourages victims from reporting their experiences and making them unwilling to bring perpetrators before the authorities.
The study reveals how people have lost their confidence in the justice system and believe that no good can come out of filing a case. There are grave concerns about lodging police complaints due to the corruption and sexism within these structures with police officers themselves requesting sexual favours. Many do not have a clear idea of where to make a complain and are unaware that sexual bribery is an offence.
"They keep the traumatic experiences within"
CEJ Project Coordinator Ando Anthappan said that in terms of the psychological impact on the women who have encountered these experiences, the impact is intensified by the fact that these women are reluctant to reach out to counselling institutions and relate their experiences. "They suffer even more as they keep the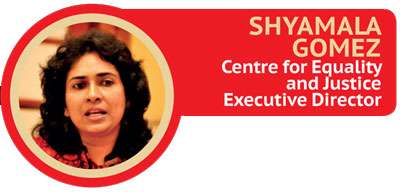 traumatic experiences within. Most women tend to blame themselves because they were unaware that it is an offence. The institutions and structures in place are very limited and that is one of the compelling needs we have identified. There are a few places of access provided by the Government; the most accessible ones being the relevant units in Government hospitals, but they are not at all sufficient and sensitive to deal with these issues. We have got down some women to Colombo so that they can meet private psychiatrists here. They should do that, rather than access someone in their area for fear of social blame and because they feel ashamed," said Anthappan.
Centre for Equality and Justice Executive Director Shyamala Gomez when contacted said, "We have approached the Commissioner General of the Bribery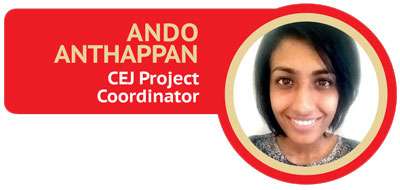 Commission, but the common perception is that an amendment to the law is not necessary because of the recorded decision of the High Court where the Bribery Act was interpreted to include sexual bribery as well. But what we lobby for is to bring about a certainty and visibility in the law and acknowledge the issue. The Commissioner has gone public and made a statement calling for representations on what needs to be changed in the law and we seek to capitalize on that. We have also spoken to a member of the Law Commission of Sri Lanka who thoroughly approved our initiative and also assisted us in formulating a definition for sexual bribery to be hopefully adopted into the law. In addition, we have also approached the Human Rights Commission and have reached out to many Government and state officials including the Minister of Justice," said Gomes. "When public officials demand for sexual favours in return for public service, those women are deprived of further rights and prevented from receiving the services these institutes provide. Female heads of households are preyed upon the most, in the absence of a male member in the family," added Gomez.
"The law that prevails is more than adequate"
Legal, Commission to Investigate Allegations of Bribery or Corruption Assistant Director Thanuja Bandara said, "Although sexual bribery is not explicitly provided for in the Bribery Act, the law that prevails is more than adequate to make a claim to halt sexual bribery in Sri Lanka. We are currently in the process of receiving representations and proposals from the general public with regard to what changes need to be made to the law regarding bribery. There is a possibility that the meaning of the term 'gratification' be expanded in due course. However, as it has been interpreted by the court, in the case of Kuthubdeen, there is no bar against considering sexual bribery as an offence under the current law."
Asked about whether one decided case is sufficient to raise awareness among the public about the legal framework, Miss Bandara stated that in order for the public to know about it, awareness will have to be raised by other means.