---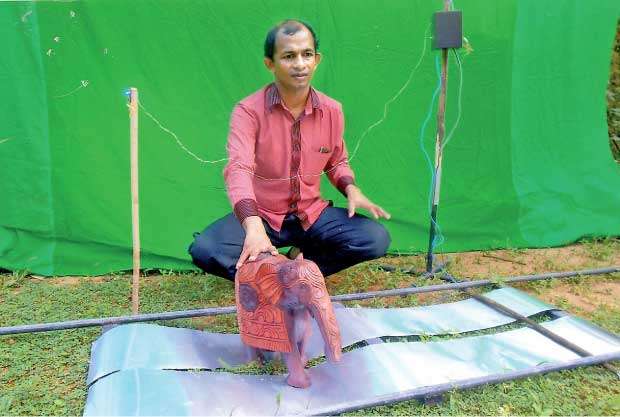 Chaminda Jayasinghe with his invention

A technician from Kottawa in Galle has invented a signal system to prevent wild elephants from being run over by trains. The new inventor Chaminda Jayasinghe said that he had already received letters patent for six out of 52 new inventions. He was of the opinion that Sri Lanka Railways and the Department of Wildlife and Conservation could examine the installation and improve its efficiency or modify it so that it can be used to make railway line trouble-free of elephants. He said that it can be used first on an experimental basis. He said the system could be turned out at a cost of about Rs.50,000.
He has named the new invention as a safety system to save wild elephants from train accidents. He said that he used soild conductor plates, a sensor, an Arduino circuit and inverter circuit to turnout the safety system.
"Two good conductor plates should be placed in between the rails and the sensor is fitted to a rail. Power is them supplied to them. A control box with Arduino circuit and the invertor circuit is installed by the railway line and power is supplied to it with a solar panel. Arduino circuit is connected to the plates and the inverter circuit to the sensor. The power supplied to the installation is similar to that of an electrical fence. When a wild elephant steps on the plates the sensor would set off a signal activating the inverter circuit that would supply power to the plates. Meanwhile a blue light that flashes warns the driver of the presence of an elephant on the track. When the train passes the location the installation would automatically switch off ," he explained.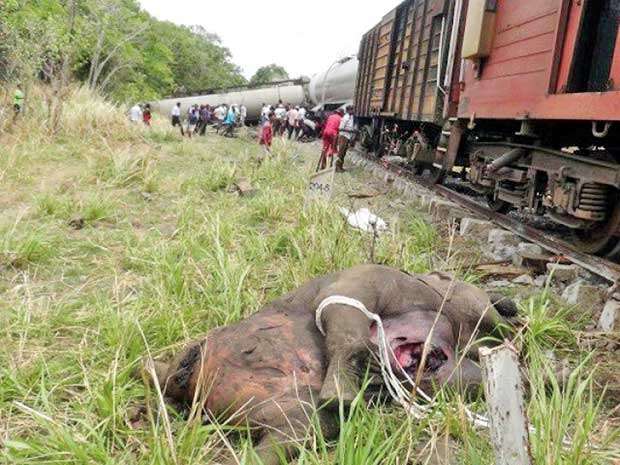 When a wild elephant steps on the plates the sensor would set off a signal activating the inverter circuit
"Much has been written and talked about the death of wild elephants engaged in train accidents that have been increasing according to the statistics of the Department of Wildlife and Conservation much to the anxiety of the environmental lovers, animal lovers and the ordinary people. However, an effective mechanism to prevent death during train accidents featuring wild elephants has not yet been worked developed. Wild elephants are a natural asset that should be protected, but it is sad that an effective plan has not yet been mapped out to prevent the death of wild elephants. Such deaths have been increasing in a large proportion annually. If this disaster is allowed to go unchecked the day we have to import elephants for exhibitions and to be displayed at the zoo is not far away. The train cannot be stopped all at once like motor vehicles. The driver can stop the train if he sees an elephant at least 500 yards ahead. If an elephant is run over, the train could derail endangering the life of passengers. I am hopeful that my invention would receive the attention of the authorities," he further said.