---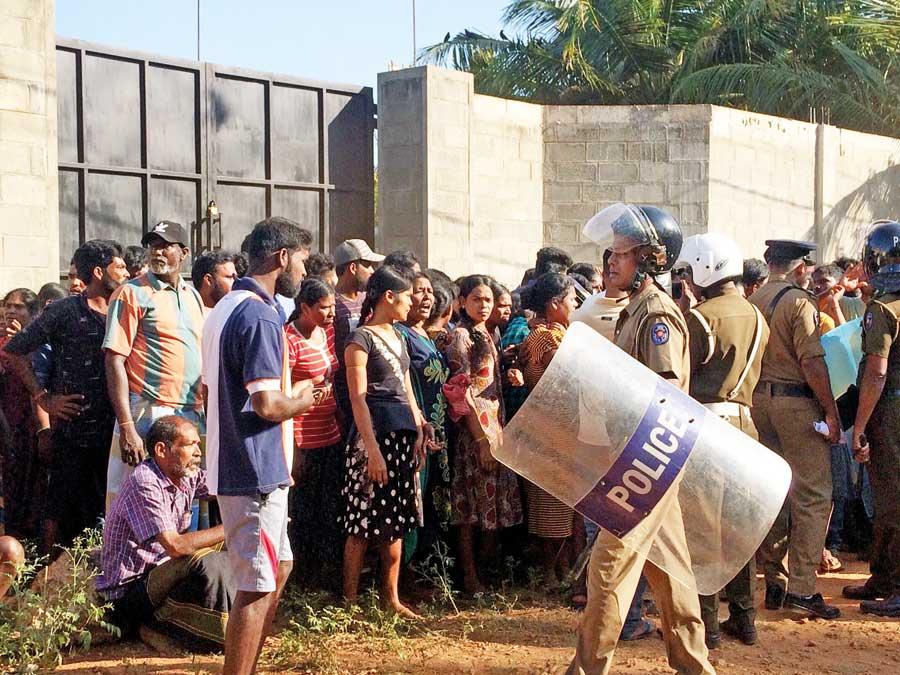 Villagers in Kalaimathy agitating against the reopening of the cemetery land back in 2017


"Even though they have other lands to cremate bodies at, they are trying to bring bodies to this site,"
- Selvam Kadirkamanathan, Member of the Valikamam East Provincial Council -



"But people haven't been using this cemetery. It is said that bodies were cremated in this site some 30 years ago,"
- Ponnan Murugesu Social Activist -



"The villagers have been quite aggressive and arrogant. My house was attacked and they destroyed a banana plantation belonging to a member"
- Apputhurai Arunthuvunesan Cemetery Development Committee Secretary -



"The denial of such land by legal means and historic claims, including by categorizing them as cemetery lands have been another means of exploiting and socially excluding oppressed caste communities"
- Dr.Ahilan Kadirgamar Political Economist and Senior Lecturer University of Jaffna -
*Velayuthan and his family live next to the Kinthusity Cemetery in Kalaimathy, off Puttur in Jaffna. Every day when they wake up, they worry about the possibility of smoke drifting over from the open-air cemetery and the risk to their health of inhaling it. He and his family have joined the rest of the villagers in nudging the authorities to close down the cemetery land in question.

Kalaimathy is home to 1500 families of the Pallar caste. It's an agricultural community which has inhabited the land since the civil war. The thirty-year ethnic conflict displaced many communities in Jaffna, but in the post-war situation they have returned and settled on once-abandoned lands. The dominant Vellala caste has claimed ownership to a majority of lands and has deprived oppressed-caste communities of their rights to access land.
The cemetery land in question comes under their purview and this has led to conflict between two castes and the tug of war between the two factions eventually ended in court; putting a stop to both factions cremating their bodies at the closest possible site.
Situation in Kalaimathy
During the height of the ethnic conflict Kalaimathy was a forested area. But 30 years later it is home to a thriving village.
The cemetery land in question was abandoned for over 30 years until March 9, 2017, when a few villagers from Siruppidy, a neighbouring village, made an attempt to cremate a body there. "Even though they have other lands to cremate bodies at, they are trying to bring bodies to this site," said Selvam Kadirkamanathan, Member of the Valikamam East Provincial Council.
Back in 2017, villagers from Siruppidy claimed that the wife of the deceased too was buried on this cemetery land in question. "But people haven't been using this cemetery. It is said that bodies were cremated in this site some 30 years ago. But when a cremation took place those people would leave their houses and return once the cremation is completed and there was no smoke being emitted," said Ponnan Murugesu, social activist and member of the Marxist-Leninist party.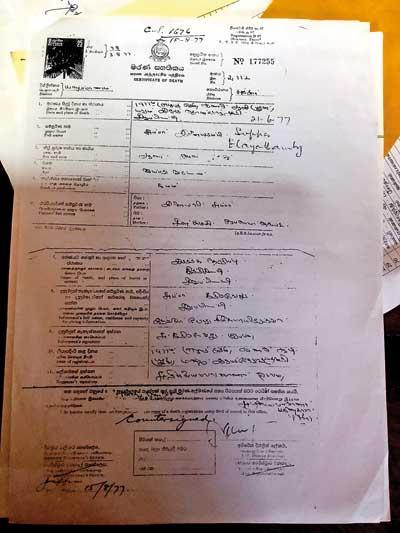 A death certificate issued in 1977 where a body of the deceased was cremated at the cemetery land in question
---
One of the concerns raised by the villagers is with regard to the smoke emitted when bodies are being cremated. The half-acre land is an open area which has now been surrounded by a wall constructed to a height of 11-feet following orders from the magistrate, and has been permanently padlocked. "The houses are in close proximity to this cemetery. How are we supposed to live with the smoke?" questioned Murugesu. "It's dangerous to the health of all residents in this area," he added.
The Daily Mirror has spoken to respiratory physicians who maintained that peer-reviewed studies had not been carried out, so they were not prepared to be quoted. They said however that they would advise any of their patients with conditions such as asthma of the possibility of developing more severe respiratory illnesses such as chronic obstructive pulmonary disease.
Villagers strongly opposed the cremation of bodies and even staged a satyagraha (fast unto death) that continued for 68 days. But it is clear that local politicians, the Cemetery Development Committee and villagers have opposing views. While the villagers claim that the other faction has the backing of the Local Government authorities, the Committee claims that the villagers have been aggressive from time to time. In fact, the protesters were arrested based on 12 different charges including damages to public property.
Meanwhile, the villagers of Kalaimathy claim that there are three other cemeteries in close proximity to Siruppidy including Kinthusity Adayanthalvu Cemetery, Kalayainpulam Cemetery, Pathakaladdy and Puthuvinayagar Hindu Cemetery that can be utilised by both factions to cremate bodies and have been situated in accordance with the law.
What the law states
During this newspaper's visit to this place this writer observed that houses are situated in close proximity to the cemetery land. However, Section 8 of the Cremation and Burial Grounds Ordinance states that no part of any cemetery shall be constructed so that it stands closer than fifty feet to a dwelling or house; exceptions being made only if there is written consent. Contrary to the law, the said cemetery is surrounded by residential dwellings and the distance between the cemetery wall and the houses is between two or three feet. What came first: the cemetery or the houses? Residents living around the cemetery have deeds to officially claim their territory. They are either permit holders under Section 19(2) of the Land Development Ordinance or holders of Deeds of Transfer.
Cemetery Development Committee responds
The Cemetery Development Committee has a different story in this regard. They argue that the cemetery pre-dated the houses, although they agree that the area is now being inhabited by families, whereas 30 years ago it was an abandoned land. As a means of justifying their claims, the committee members showed us death certificates of deceased that were cremated at this site back in the 1970s. "If you go to the Jaffna town, you will see a crematorium built near a hostel, a playground etc.," alleged Apputhurai Arunthuvunesan Cemetery Development Committee Secretary. Upon his request this newspaper visited several other cemetery lands, but this writer observed that homes, hostels or playgrounds have been situated at a distance further away from the cemetery walls.
"The villagers have been quite aggressive and arrogant," continued Arunthuvunesan. "My house was attacked and they destroyed a banana plantation belonging to a member. Now we organise impromptu meetings because if they find out that we are organizing a meeting, they are most likely to attack us," said Arunthuvunesan.
Matters relating to caste-based issues in Jaffna have been studied by academics for decades. Commenting on the wider issue of oppressed communities being deprived of lands due to caste-based issues, Dr. Ahilan Kadirgamar, Political Economist and senior lecturer at the University of Jaffna, said that land for agriculture and housing are crucial for the economic improvement of marginalized communities. "The denial of such land by legal means and historic claims, including by categorizing them as cemetery lands have been another means of exploiting and socially excluding oppressed caste communities. At a time when day wage labourers, which in the case of Jaffna, are mostly from oppressed communities, are most devastated by the ongoing economic crisis, access to land is going to become a central issue connected to survival. Indeed, for landless oppressed caste communities, a plot of land for subsistence cultivation can end up being the deciding factor regarding starving or not," said Kadirgamar.
When asked if there was an issue regarding caste, Arunthuvunesan denied such claims. "Our Committee comprises people from every caste. A person from the Pallar caste is also in this Committee. What we want is a nearby land to cremate bodies. Since they objected, people now cremate bodies in Mandavil or in their ancestral hometowns. Some even take bodies as far as Mullaitivu. Now it is more of a dispute between two villages. Then they filed a case in courts and it has been dragging for five years without any settlement," said Arunthuvunesan. The dispute regarding the Kinthusity Cemetery in Kalaimathy Veethy in Puttur is now a legal matter, pending before courts (Writ Application No. 2959/2020).
"There are 18 other organizations that have joined hands with us and are supporting us in this matter. We have proposed to the authorities to reopen this cemetery land as a public cemetery. But the decision is still pending in courts," he added.
One such organization is the Janashakthi Community Centre in Siruppidy. "We followed instructions given by the magistrate and constructed an 11-footwall, so that the smoke emitted would not disturb the inhabitants," said Balan Dharmaraja, member of the Janashakthi Community Centre. "Closing down the cemetery land this way is not benefitting either the villagers or us. Both sides are affected by this incident and there's no solution yet," said Dharmaraja.
Meanwhile the villagers of Kalaimathy claim that government authorities have remained silent over the matter. They claim that members of the Cemetery Development Committee have thrown their weight around government officials. The former Northern Province Governor P. S. M Charles was made a respondent to the case. However, when contacted Mrs. Charles said that even though she has been made a respondent to the case she was unaware of the matter and directed this paper to contact the Local Government Commissioner. But attempts to contact this official proved futile. The matter was taken up in court on December 14, 2022 and has once again been postponed without reaching a conclusion. The Daily Mirror learned that members of the Cemetery Development Committee have been changing, but they anticipate that the matter would be resolved after a few more court hearings and that both factions would once again have access to land to cremate bodies.
*Name withheld on conditions of anonymity
(Additional reporting and translations by T. K Mansoor and Mayurapriyan of Jaffna Press Club)