---
CNH Cardiology Unit struggles to cope with lack of space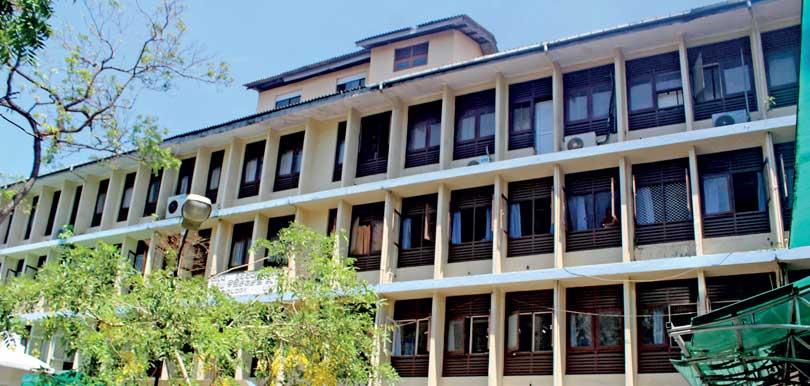 In a country where Health Ministers and other VVIPs can afford to go to Mount Elizabeth Hospital in Singapore for heart surgeries, I am writing this article on the bed no: 31 of the 71st ward of the Cardiology Unit of Colombo National Hospital (CNH).

Doctors and nurses are engaged in a struggle against time to save the lives of patients as I write.

They admit a patient to the ICU and seeing there is no space available, bring the patient back to the ward though he or she should otherwise remain in the ICU.

They go through another struggle to save the life of that patient who has been moved from the ICU.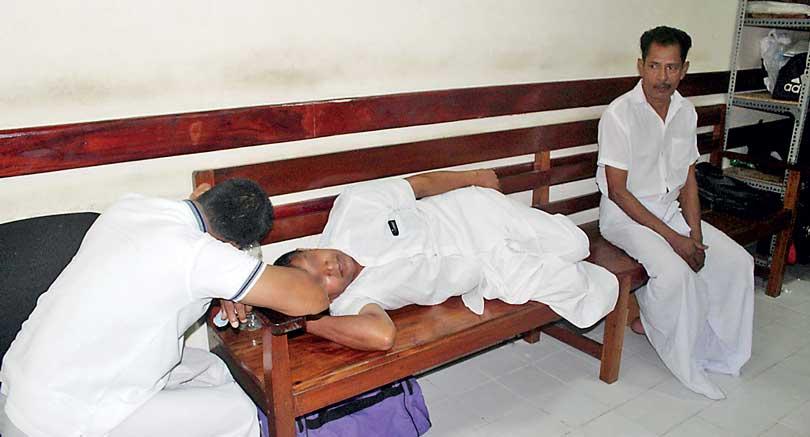 Those who fight between life and death amid minimum facilities in that old hospital building are who voted for the legislators of the country allowing them to receive treatment in Mount Elizabeth Hospital.

The Colombo National Hospital has a history of about 150 years. The National Hospital which was established in 1864 in a land of 32 acres was the largest teaching hospital in Sri Lanka.
The CNH, which was known back then as the General Hospital, established its first Cardiology Unit after 88 years in 1952. The first open-heart surgery of the hospital was performed in 1955.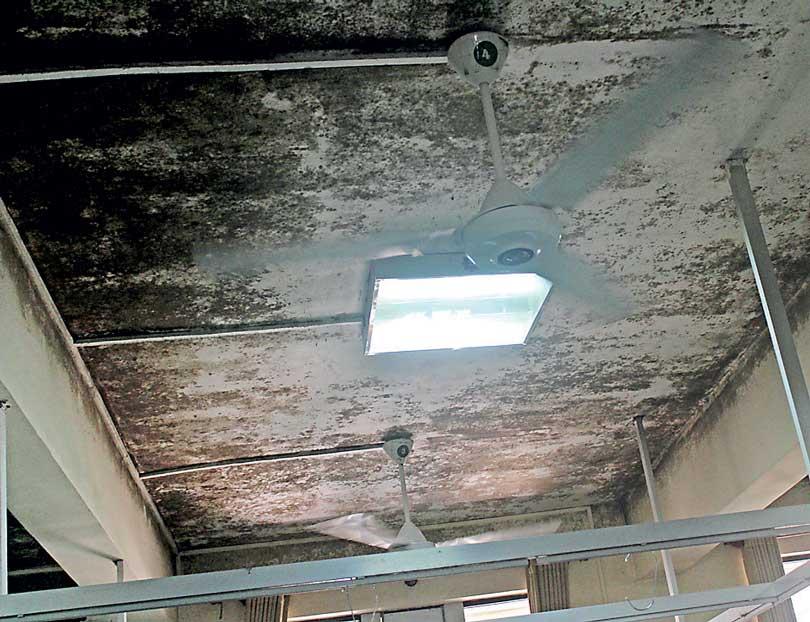 The Institute of Cardiology, which began as a Cardiovascular Diseases Prevention Unit renders many services today. Even though the number of facilities and the patients has increased, the building still belongs to the past.

In the Cardiology ward, essential medical equipment is kept tightly packed in a way of taking the maximum use of the space allocated for them. Some may even mistake those wards as storerooms.

Several fungi species are growing on many walls of the hospital building foreshadowing a great danger.
---

J. H. M. Jayasena, a heart patient who was sitting on a chair in ward 71, said he had been in the waiting list for more than
a year.

"I come from Kekirawa, Anuradhapura and I am a farmer. I got a heart attack and it has been more than one year since I have been in the waiting list.
"We were admitted to this unit yesterday to insert stents and we slept in this tiny room since last night," he said.

"This is a national hospital only by name. There is more space in small hospitals in our areas. I am to be taken in for surgery and I have to face it with tiredness caused by lack of sleep throughout the night."
---
D. M. Thilakarathna from Kurunegala said that he was also in the waiting list for more than a year and was admitted to the hospital yesterday.

"I also waited sitting on this chair without getting any sleep. The hospital staff and the doctors are doing their best. They checked a sample of blood quite efficiently. However, there is not enough space in this hospital. "My illness was not properly treated and our family doesn't have a stable income. We do not have the means to stay in paying wards. Patients who are admitted to this hospital should be on bed rest yet they are forced to sit on chairs.

"I think that the propaganda of the new government is so far successful. I hope that President Gotabaya Rajapaksa would give solutions to these issues faced by patients," he said.
Patients who come from faraway places are forced to sleep while standing.

Thousands of patients report to Colombo National Hospital Cardiology Unit for clinics and the number of clinic attendees was 1,188,540 in 2019.
The number of patients who have been subjected to the treatment of inserting a stent using a catheter to open up small blood vessels is 4,182 last year.
The number of patients who have been subjected to Angiogram is 9,188.

Besides, the number of Coronary Bypass Surgeries which improve blood flow to your heart muscle is 901.

What is riskier is that while the number of patients who come to clinics is calculated as 1,188,540, the waiting list for bypass surgery, stents and angiogram is extended up to the year 2022.

When the waiting list is years long, patients die while waiting for treatment.

What could be the reason for the waiting list to be that long? What prevents doctors from taking any action to save these patients before they die?

We inquired the team of Cardiologists in the Cardiology Unit.
---

The President of Sri Lanka Heart Association and Consultant Cardiologist Dr Stanley U. Amarasekara said that the Cardiology Unit has a history of more than 50 years and at present, the number of patients has increased.

"Therefore this building is insufficient. Patients in the waiting list die as a result. This is a national problem which needs to be solved soon.

Earlier this was a disease prevention unit. However, at present heart patients from all over the country come here for treatment. Even though there are facilities available, giving in-house treatment has become extremely difficult due to lack of space.

"We have created five teams with a Cardiologist in each team to give 24-hour treatment to patients admitted to this unit for heart attacks. Since the space in the building is not sufficient to increase the number of beds, we have a lesser chance to save patients. We learn that some patients die while being on the waiting list. It is a disaster.

"We talk a lot about deaths caused by accidents or war. However, no one is aware of these silent deaths.

"For some patients, being in the waiting list means being closer to death. With time, their condition gets worse. If a patient is aged 50 years by the time we identify him, he only becomes older and not younger," he said.

"Performing surgery on such patients is more complex and the cost the government has to bear is also higher. With age, the patient might become unfit for surgery," Dr Amarasekara said.
---

Meanwhile, Dr Sepalika Mendis, Senior Cardiologist of the Cardiology Unit said that when inspecting a patient at night, they had no other option but to walk skipping over patients sleeping on the floor.

"Sometimes we have to awaken patients sleeping on the floor to go inside the ward. If anyone wants to see the reality of this situation, they can visit the 71st or 61st wards at about 8 p.m," Dr Mendis said.

"On several occasions, when admitting a patient to the ICU, we are forced to move another patient who is almost recovering well away from the ICU to make space.
"If the condition of that particular patient becomes worse, we have to move him back to the ICU again," Dr Mendis said.

"Wards are overcrowded. Several surgeries are postponed and when labs are out of order there are no additional labs. We are talking on behalf of patients, about issues they have to face. The need for a building has become essential.

"When labs are out of order, we are forced to send back patients coming from rural areas. If we have additional labs, modern operation theatres and required medicine, we can save thousands of lives, since we are specialised and we have the necessary equipment in the hospital. Lack of space is a grave issue," Dr Mendis said.
Read Metro next week for further issues at CNH Cardiology Unit and proposed solutions.