---
Senior economic advisor to Prime Minister, Ajith Nivard Cabraal said he would make a request to President Gotabaya Rajapaksa to initiate an independent Police inquiry on the Central Bank bond scam in early 2015 and dealings in the bond market between 2010 – 2014 period as the so-called forensic inquiry, COPE inquiry chaired by JVP Parliamentarian Sunil Handunnetti and the Commission of Inquiry (CoI) appointed by former President Maithripala Sirisena were incomplete, biased and didn't expose those who were directly responsible for the financial crimes in the bond market in 2015.
Mr. Cabraal who is also the former Central Bank Governor added that an independent police inquiry was the most reliable probe because any probe initiated involving the Central Bank and politicians could not be flawless and clean.
He told a news briefing at the Temple Trees last morning that he was ready to 'Tell All' at a police probe and directly expose all those who masterminded the financial scam that took place in January and March 2015 – the largest in the banking history of Sri Lanka – involving the primary dealer Perpetual Treasuries Ltd, former CB Governor Arjuna Mahendran hand picked for the job by then Prime Minister Ranil Wickremesinghe ignoring the protests by President Sirisena and a number of cabinet members and certain top Central Bank officials.
"What is the credibility of this Audit Inquiry? The BDO India LLP and KPMG Sri Lanka had been awarded contract for the forensic audits into securities fraud involving the sale of bonds, by the Central Bank. Though the Forensic Audit had been carried out by the Indians at a cost of Rs. 275 million paid by the Central Bank, the report had been signed by the KPMG, Sri Lanka. I have reliable information that the Audit Inquiry is also a cover up influenced by top politicians of the yahapalana government targeting me and Mahinda Rajapaksa regime. Besides, the BDO India has a several court cases against it in that country. The Indian government had suspended its activities in India for two years," Mr. Cabraal stressed.
He pointed his accusing finger at COPE Chairman of the previous Parliamentary session Mr. Handunnetti and added that he has acted on direct instructions of former Prime Minister Wickremesinghe.
"The Wickremesinghe and company tried hard to corner me and put me at least for a few months behind bars but couldn't. On the instructions of Ranil, bank accounts, credit cards, our foreign travels, our movable and immovable assets and even what we ate and where we stayed were closely probed. They could not find a single evidence to make a case against me. Do you believe, if they had found at least a fraction of an offence, would they leave me alone?' Mr. Cabral asked.
While probing the bond placements before 2015, the forensic audit report had highlighted only the losses and not profits or gains by the EPF, various banks and other state institutions. A close look at the placements in the secondary market, they have recorded a profit of Rs.18 billion while having a loss of Rs.10 billion.
"What is most important is that this loss of Rs. 10 billion is not a misappropriation or a fraud, but a loss. But at the same time there was a profit of Rs.18 billion. That is how the bond market behaves. I can categorically say that there had been no fraud, misappropriation or scandal during my time as the Governor of Central Bank like what happened in February and March in 2015," Mr. Cabral noted.
Mr. Cabraal in response to Daily Mirror said what he wanted was a thorough and independent CID inquiry on the bond market activities took place during the yahapalana government and also during the Mahinda Rajapaksa regime.
All decisions on the dealings in the bond market during his tenure were take with the approval of the Monetary Board. All members of his family have taken top positions in the banking, corporate and state sector on their merit as almost all of them are top professionals, but not on political influence as some detractors tried to make out. He was the youngest in the batch when he passed the Charted Accountancy and his father was the Sri Lanka's first Postmaster General, Mr. Cabraal said. I have a name to protect. I have a big family to maintain the dignity, self respect and honour, he noted.
"I am ready to face this probe as I have nothing to hide. At the same time, I like to expose skeletons of a number of top politicians of the Ranil Wickremesinghe regime. Only then the people of this country would know what actually happened under the nose of Ranil and certain members of the Monetary Board of the Central Bank under Mahendran. But I also believe that a probe can be carried out with or without Mahendran and take legal action against those actually involved in the scandal," Mr. Cabraal emphasized. (Sandun A. Jayasekera)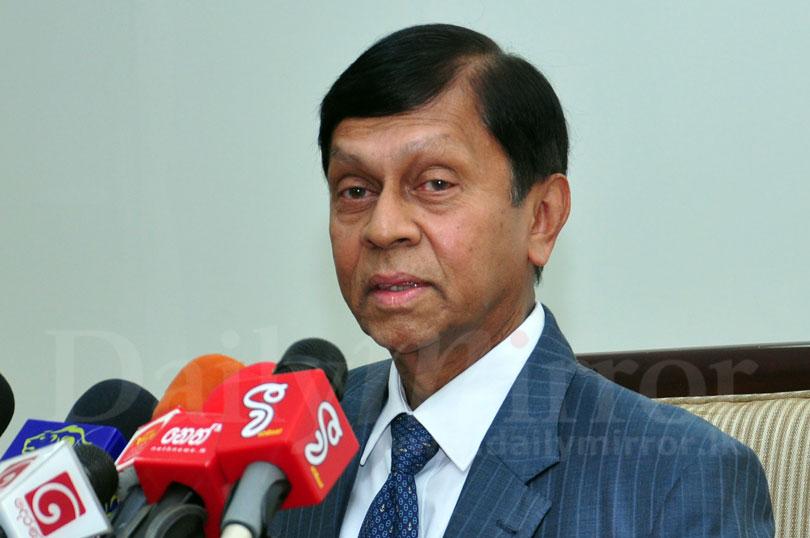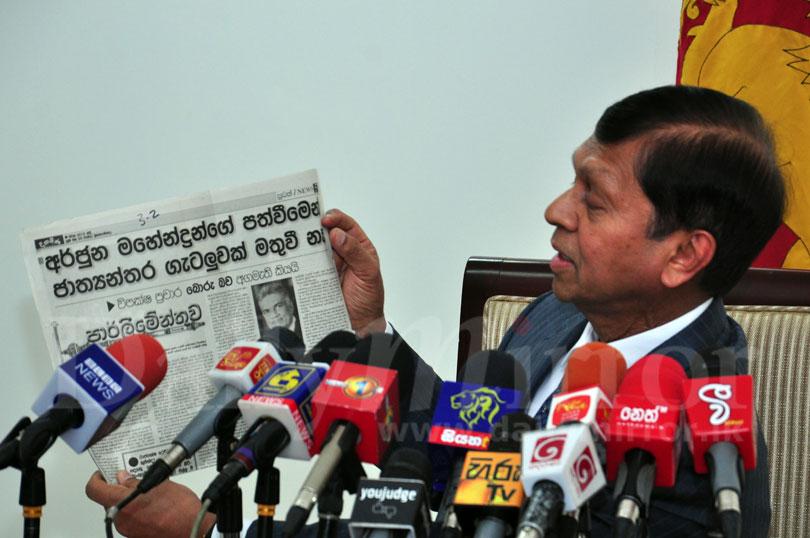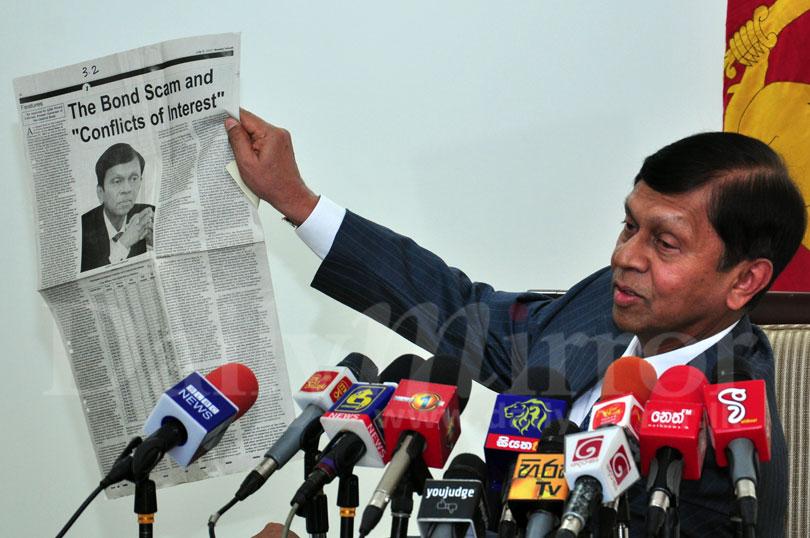 Pix by Nisal Baduge