---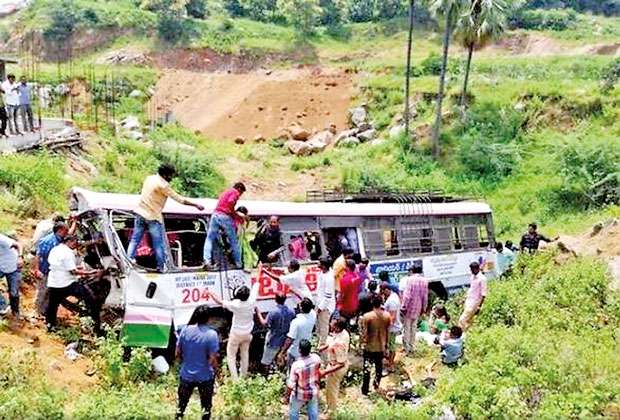 Hindustan Times, Hyderabad, Sep 11, 2018
Fifty-two people were killed and several were injured after a state-owned Road Transport Corporation bus carrying pilgrims from a temple in the hills of Telangana's Jagtiyal district plunged off a road into a 30-foot gorge on Tuesday morning.

According to police, the pilgrims were on their way back from a Hanuman temple atop Kondagattu hill. The bus was travelling from Sanivarampet village to Jagitial via Kondagattu pilgrim centre when the accident took place around 11:30am.

Police suspect failure of brakes led to the accident. The driver, who also died in the accident, reportedly lost control as he tried to avoid another bus on the route. "Most of the deaths seem to have occurred due to suffocation, as the passengers fell over one another," police said.

Authorities recovered bodies of five children, 32 females and 15 males before calling off the rescue operation. The injured were shifted to Jagitial government hospital. The toll could go up as the condition of some of the injured were stated to be critical.