---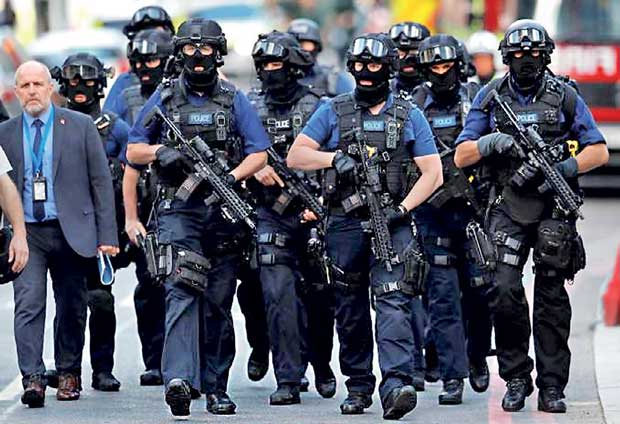 British Prime Minister Theresa May called on Sunday for a stronger response to Islamist extremism after three attackers drove a van into pedestrians on London Bridge and stabbed others nearby, killing seven people and injuring 48.

London's Metropolitan Police arrested 12 people in the Barking district of east London in connection with the attack and raids were continuing there, the force said.

The attack occurred five days before a parliamentary election and was the third to hit Britain in less than three months. May said the vote would go ahead as planned on Thursday.

"It is time to say enough is enough," the Conservative leader said in a televised statement outside her Downing Street office, where flags few at half-mast.

"We cannot and must not pretend that things can continue as they are," May said, calling for a beefed-up counter-terrorism strategy that could include longer jail sentences for some offences and new cyberspace regulations.

Less than two weeks ago, a suicide bomber killed 22 children and adults at a concert by U.S. singer Ariana Grande in Manchester in northern England. In March, in a attack similar to Saturday's, five people died after a man drove into pedestrians on Westminster Bridge in central London and stabbed a policeman.

On Saturday night, police shot dead the three male assailants in the Borough Market area near London Bridge within eight minutes of receiving the first emergency call shortly after 10 p.m.
REUTERS, 04th JUNE, 2017