---
Huawei, Sri Lanka's fastest growing smartphone brand, had increased its market share to over 30 percent in 3Q, according to the market research and user experience research experts GfK report.
Huawei is currently ranked at number two in the smartphone market segment in Sri Lanka.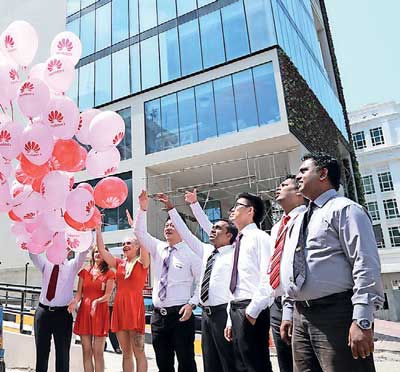 Upbeat about the achievement Huawei Sri Lanka Country Head Device, Henry Liu said, "In August of this year, Huawei reached a market share of 28 percent. By the end of 3Q, this figure had gone up to 30 percent. We are positive and confident that we have the capacity and reach to achieve the number one mark in the near future."
Liu also acknowledged that Huawei, as a brand, highly believes in the strategy of adopting a stringent focus and investment into their research and development. Huawei offers a range of products in Sri Lanka from entry - level range, mid-range and high-range, of which, Huawei Y3II 4G, Y5II 4G, Y6II 4G from the entry - level range, Huawei GR5, GR5 Mini, P9 Lite from the mid-range are popular with the locals. The Huawei Mate 8 and P9 are among highest selling high-end sub brands in Sri Lanka. Sri Lankans embrace these products as smartphones increasingly are becoming an essential part of their lifestyles. In June this year, Huawei launched its flagship smartphone the innovative P9, and its first shipment was sold out within a week of the launch topping sales records for the local office.
This year, Huawei has been noted to having aggressively embraced well-timed expansion measures. Huawei customers and potential patrons can access Huawei experience centres that are at strategic locations in key parts of the country. Not just through channels such as the experience centres but now, Huawei brand shops can be located at major locations and towns islandwide. By the end of 2016, Huawei will unveil another experience centre
in Kandy.
Through advanced technology, innovation and collaboration, Huawei will continue to deliver leading technology products to its customers. The ongoing integration between future direction of consumer devices and partners' advanced technology will result in new, cutting edge products and amazing user experience. Huawei continues on the route of providing value-driven and innovative products and services. Huawei is ranked 47th among the World's Top 100 Most Valuable Brands in 2016 According to Brand Finance. Huawei recently jumped to Number 72 on Interbrand's Best Global Brands adding another feather to its cap.