---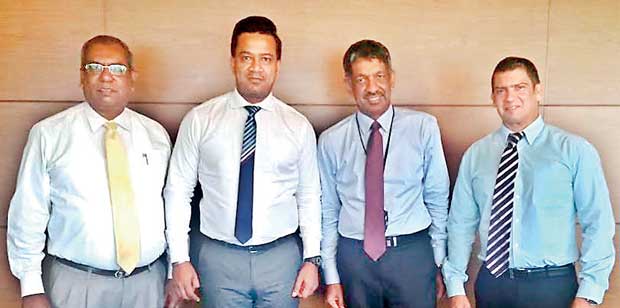 From left: Global Management Consultants Director Jayaraj Chandrasekera, Pan Oceanic Bank Executive Director Kutila Pinto, Synapsys Chairman and DFCC Bank CEO Arjun Fernando and Synapsys MD/CEO Dinesh Fernandopulle



Pan Oceanic Bank recently celebrated one year of operations in the Solomon Islands. The bank went from concept to operation in record time with MBANX, an agile core banking platform created by DFCC Bank's Synapsys, a dynamic and innovative technology firm that provides the full complement of commercial banking services.

The Lending and Deposit modules have been around for a while but what differentiates MBANX is the easy integration to third party offerings. Inspired with a view to make the Solomon Islands a hub for Pacific Banking, this technology will enable Pan Oceanic embed itself in the fabric of commerce.

Further, Synapsys' own complementary products such as the mobile workforce solution M-Teller, that has been in use at DFCC Vardhana Bank for the last four years, will also power the bank's spreading influence This product also includes Trade and Treasury modules, which are vital facets of commercial banking, and not provided by any other core banking solution at this price-point. It also has the ability to deliver an aggressive Go-Live schedule within three months.

Pan Oceanic Bank Executive Director Kutila Pinto said, "It has always been the strategy of Global Management Consultants - the developer and promoter of Pan Oceanic Bank, to promote Sri Lankan expertise wherever possible at critical stages of the bank's development. POB received its first confidence boost when the core banking critical work was carried out by Synapsys. We received value for money and the implementation was professional, delivered by a team that went above and beyond their call of duty to assist POB open its doors on time and on schedule."

"Synapsys was a strong and flexible partner that supported a national bank in the Solomon Islands to realize its vision," added CEO Nihal Kekulawela.
"While starting with a clean slate, we nevertheless had to match the products and services offered by large foreign banks who had established their presence across the Pacific Island countries and could count on various synergies and strong backing from much larger economies of their parent countries," concluded Dr. Lionel Pinto, the key person who led this venture from inception.

MBANX is one of Synapsys' three platforms, dealing with core banking. The firm's other platforms include METRIX, which covers risk and analytics, and APEX, which handles capital markets. Synapsys itself has three pillars of expertise which includes consulting, software and operations, all delivered with a strong foundation laid on Oracle Financials.

Pan Oceanic Bank validates our vision for Fast, Fair and Frictionless financial services and the on-boarding of new customers to POB continues unabated which goes to show that the demand for financial inclusion is a universal human need and a vital step for personal and national prosperity," said Synapsys CEO Dinesh Fernandopulle.

Synapsys Chairman and DFCC Bank CEO Arjun Fernando also congratulated Pan Oceanic Bank on its achievement and stated that both parties look forward to expanding operations in the Pacific.

Synapsys is a dynamic and innovative technology subsidiary of DFCC Bank, Sri Lanka's pioneering development banking institution. It offers a range of products and services that support banks, capital markets, insurance and retail payments across Asia and is driven by a three-pronged strategy to enable financial inclusion, efficient payment networks and the ability to 'Bank Different'.
---
Add comment

Comments will be edited (grammar, spelling and slang) and authorized at the discretion of Daily Mirror online. The website also has the right not to publish selected comments.

---