---



After your Madrid flight, a great place to start your visit is the Plaza Mayor, one of the city's oldest squares. Since the 15th century it's hosted bullfights, festivals and official ceremonies. Today it offers plenty of cafés, small fairs and exhibits, and the city's main tourist office. Later, take a walk along Grand Vía, one of the busiest avenues in the city, and home to the cinema district. The Palacio Real, Madrid's Royal Palace, is well worth a visit too. For a more relaxed stroll, Madrid offers an impressive 40 parks; take a walk in El Retiro, with its beautifully landscaped gardens, serene boating lake and assorted jugglers, mimes and musicians.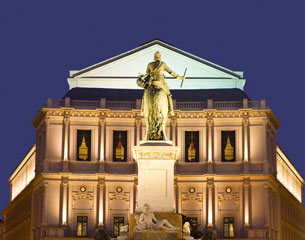 Sightseeing

Madrid has a deserved reputation for housing much of the world's finest art. Essential visiting is the 'Golden Triangle of Art', three museums located around the Paseo del Prado (the city's main north-south boulevard). Museo del Prado houses one of the best collections in the world, comparable with the Louvre in Paris. Its 8,500 paintings include works by Goya, van Dyck, Botticelli and Caravaggio. Reina Sofía offers Madrid's best collection of modern art, including works by Kandinsky, Dalí and Picasso. Thyssen-Bornemisza houses masterpieces by Monet, Goya, Degas, Renoir, Van Gogh and Picasso. Brilliantly, all the works in the Thyssen are organised in chronological order, from primitive Flemish art of the 8th century through to Pop Art of the 20th century, providing a fascinating summary of western art history.
Flights to Madrid, Spain

If you're looking for world-class shopping, Madrid is the place to be. For high-end fashion, the district of Salamanca offers all the top designer names like Chanel, Versace, and Adolfo Domínguez. For the less label-conscious, or more adventurous, every Sunday Madrid's largest flea market El Rastro offers an endless variety of knick-knacks, homemade goods and live entertainment. You can find it in the Madrid de los Austrias.

Dining and nightlife

While flamenco may be Spain's most famous dance outside of the country, you're more likely to find locals dancing a Seveillana – similar to flamenco, but livelier and simpler than its better-known cousin. For those set on flamenco, though, head to Corral de le Moreria, one of the most famous flamenco tablaos in the world, located in the heart of Madrid.

Madrid has a very active nightlife. Very active. It's not unknown for Madrileños to stay up partying until as late (or early) as 7am. While this might be a bit ambitious for the unaccustomed, the city's astonishing range of restaurants, bars and clubs are well worth staying up for.

The district of Malasaña offers alternative music and a real cosmopolitan mix of people in its pubs, bars and cafes. In La Latina, by contrast, you'll find stylishly dressed young people enjoying the tapas bars. Salamanca is where the wealthy like to party. If you can get in, Madrid's famous Gabana 1880 club is popular spot for international celebrities.

Madrid offers a varied range of cuisine from across Spain, with plenty of Catalan, Andalusian and Galician restaurants offering excellent fare. It's an ideal way to sample all the country's offerings in one place. Tapas are almost unavoidable in Madrid, and well worth trying. There are numerous tapas bars throughout the city.
Flights to Madrid, Spain

Curiously for a city located exactly in the centre of the country, Madrid is widely regarded as having the best seafood in Spain, and indeed in all of Western Europe. Though it comes at a high price, mariscada, or 'seafood feast', is superb. Paella is served widely as well, though you should sample it from a proper restaurant and not a street vendor, as the quality is generally far higher.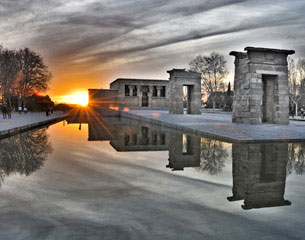 Beyond Madrid Granada

Situated at the foot of the Sierra Nevada Mountains in Andalusia, southern Spain, Granada is home to some of the country's greatest architecture and infused with an unmistakable Islamic influence. The first port of call for any visitor is the Alhambra, a staggering palace and fortress built in various stages between the ninth and sixteenth centuries. The result is a majestic, sprawling and uniquely curious fusion of Hispanic, Moorish and Christian influences, and the intricacies of its architecture are truly astounding. Not to be missed.

Barcelona

With a spectacular location between the Mediterranean and the hills of Montjuïc, Barcelona is almost unique in the world in having four kilometres of beautiful beach in the middle of the downtown area, and more stunning architecture than many cities twice its size would ever see.

Barcelona's very discernible identity can be found throughout the city. World-famous chef Ferran Adrià is a local, and his inspiration is felt in much of the city's cuisine, while for shopping Barcelona easily matches Madrid as Spain's fashion capital, and its designs are generally more creative and daring.

For a cultural turn, take a stroll along Las Ramblas, the city's iconic kilometre-long tree lined pedestrian avenue, where you'll find Mercat de la Boqueria, a busy street market, Font de Canaletes, the city's most famous fountain and local hangout, and Gran Teatre del Liceu, one of the world's greatest opera houses.

Seville

The artistic, cultural and financial capital of southern Spain and capital of Andalusia, Seville is a deceptively laid back city. It has none of the hustle you'd expect of its size, and its happy, friendly locals are imbued with a genuinely carefree spirit. Arguably at its most beautiful in the spring when the orange trees lining the city squares bloom, Seville has a lot to offer all year round. Among the stunning examples of its architecture is its cathedral, containing the world's biggest altar, and with a bell tower offering some of the most spectacular views of the city. Seville is also the birthplace of tapas, so don't be surprised to see extensive tapas menus everywhere you go.

Experience our world-class service on flights to Madrid, with sleeper seats in First Class, sleeperettes in Business Class, and a full-service Economy Class. Emirates Madrid flights land at Madrid-Barajas Airport, around 12 km from the city. The airport is well served for transport into the city after your flight to Madrid, with two metro lines providing a swift route into town, along with buses and taxis.
---
Add comment

Comments will be edited (grammar, spelling and slang) and authorized at the discretion of Daily Mirror online. The website also has the right not to publish selected comments.

---