---

ri Lanka today proudly celebrates the 150th birth anniversary of Anagarika Dharmapala, who played a historical role in the revival of Buddhism not only in this country but also in several parts of Asia, Europe and the United States.
Of particular significance at a time when some Sinhala Buddhist groups are often acting in a manner that is damaging to the Buddha Dhamma and the spirit of religious and ethnic unity in diversity, we would like to focus on the role played by Anagarika Dharmapala in the revival of Tamil Buddhism. This dimension is vitally important for Sri Lanka today, because of the national and international crises we are facing on the ethnic issue, where the revival of true Buddhism could become a unifying factor.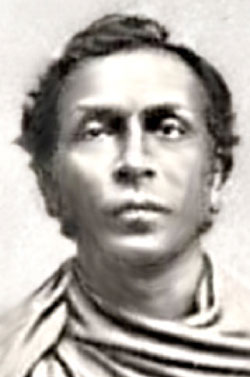 According to an article published in our sister paper the Sunday Times, it was Anagarika Dharmapala who inspired a mass movement of South Indian Dalits including Tamils to embrace Buddhism, half a century before Ambedkar.

Anagarika Dharmapala's earliest connection with India had been with the South. It was to the Theosophical Society in Madras (now Chennai) that he made his first Indian visit at the age of 20. It was there, that along with Madam Blavatsky and Col. Olcott that Anagarika Dharmapala began his Dharmaduta Mission in India.
Even before Anagarika Dharmapala visited Saranath, Benares and Buddha Gaya, Pandit Iyothee Thass (1845–1914) born to a Dalit "pariah" family in Madras had initiated a social transformation of the down–trodden in South India.

In 1886, Pandit Thass issued a revolutionary declaration that the untouchables were not Hindus. Following this, he set up the Dravida Mahajana Sabha in 1891 and urged Dalits to register themselves as "casteless Dravidians" instead of identifying themselves as Hindus. Pandit Thass insisted that Tamil Dalits were originally Buddhists.

While this was happening, Anagarika Dharmapala set up the Maha Bodhi Society in May 1891 first in Colombo and later its headquarters in Calcutta with the vision of restoring Buddhist shrines in Buddha Gaya. This was widely seen as the most important event in the history of the Buddhists in India. Two months later Anagarika Dharmapala took four Ramanna Nikaya monks to Buddha Gaya and they were the first modern Dhammaduta monks from Sri Lanka to propagate the Dhamma in India.

In 1898 Anagarika Dharmapala was invited by Pandit Dass to revive Buddhism in South India. They set up a Maha Bodhi Society, a Young Men's Buddhist Association and other groups in South India. They also built a Vihare. Anagarika Dharmapala then invited a Sinhala Monk Ven. Nilwakku Somananda Thera to learn Tamil and take charge of the Vihara in South India. This monk later wrote the first Tamil translation of the Dhammapada. Vesak was celebrated for the first time in South India in 1900 and a Tamil book titled 'Bhagavan Buddha' was published to mark this historic occasion.

So we see that Buddhism flourished in South India and even in the North and East of Sri Lanka. But gradually -- after Anagarika Dharmapala and other sincere, selfless and sacrificial people of his calibre – there has been a gradual decline. That may be one of the main reasons for the 30-year war, the continuing conflict in the North and the crises with South India.

Like the Buddha or Bagavan Buddha, Anagarika Dharmapala preached only what he practised and practised what he preached. Like the Buddha, Anagarika Dharmapala also gave up wealth and privileges to enter into alpechchathawaya - a simple and humble lifestyle. If we had more Anagarika Dharmapalas today, we probably would not have had an ethnic crisis, a catastrophic 30-year war or the complex national and international socio-political issues we are facing.

As in all religions, the greatest sermons in Buddhism are the sermons of our lives. The example we set through the virtues of love, mercy and compassion, generous sharing and caring along with inner liberation from selfishness and self-centredness, the desire for personal gain or glory, hypocrisy and self-righteousness.