---

Despite generally stronger economic growth achieved by Sri Lanka during the recent past, the International Monetary Fund (IMF) claims that the growth has failed to reduce poverty at a similar pace, particularly in less - developed provinces.

Measured by 'elasticity of poverty'— proportional change in poverty per unit growth in GDP per capita— economic growth has not been consistently higher in less-developed provinces.

"To support inclusive growth and poverty reduction going forward, higher poverty-reduction elasticities and continued robust growth in less - developed regions are imperative," IMF staff opined.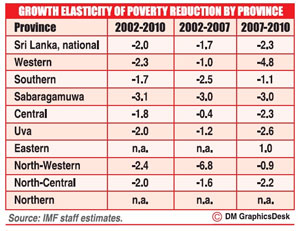 For this to occur, they advised inflation must be contained and economic development policies should provide for a continued expansion of infrastructure, access to health and education services and improvements in the investment environment to support private sector growth.

According to the IMF estimates, the elasticity of poverty reduction during 2007-10 appears to have been the strongest (4.8) in the Western Province (refer table for all provinces).

The IMF cited fewer labour market opportunities and generally higher costs as reasons for relatively high poverty rates in less-developed provinces, which place them at a competitive disadvantage.

Despite the national unemployment reaching historically low of 4 percent (or near full employment), Southern, Northern and Central Provinces remained above the 5 percent level with the Eastern Province being the highest at 7 percent (according to 2011 data).

The corresponding poverty headcount in these provinces too remained higher than 10 percent with Northern and Eastern Provinces being the worst at 13 and 15 percent, respectively (2009/10 data).

However, according to the Central Bank data, the national poverty headcount ratio— percentage of population below the national poverty line— fell to 8.9 percent in 2009/10 from 15.2 percent in 2006/2007.

Halving of poverty is also an achievement of Millennium Development Goals ahead of the target year of 2015.

Meanwhile, a number of beneficiary families under the Samurdhi welfare programme too declined from 1.84 million in 2007 to 1.5 million in 2012. Nevertheless, the value of grants under the programme went up from Rs.9.4 billion to Rs.10.6 billion during the same period.

The country's journey towards a more equitable and inclusive growth also saw that poorer provinces, particularly the Northern Province, reviving from the conflict, recording the highest average GDP growth of 15 percent (201011) whereas the country's richest Western Province, home to its capital city Colombo, growing at 6.5 percent per annum. (DK)
---
Add comment

Comments will be edited (grammar, spelling and slang) and authorized at the discretion of Daily Mirror online. The website also has the right not to publish selected comments.

---