---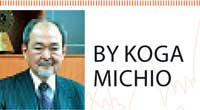 As Japan enters an era of falling birth rates, an aging society and a shrinking population, there has been a rapid decrease in the labour population and concerns have been raised over the past three decades about Japanese industries facing a critical shortage of skilled engineers.

According to projections by the National Institute of Population and Social Security Research in Japan, the population of Japan will have decreased by more than 10 million by the year of 2030 compared to that of 2010. This phenomenon has caused a decline in Japan's population, which in turn will result in a shortage of skilled workers in a long-term basic trend in the Japanese labour market.

Japan's labour problems
Japan and China have been dependent on each other for long time; the former needs cheap labour, while the latter has the largest population in the world looking for employment. However, China is gradually losing its cost advantage and competitiveness in comparison to other Asian countries mainly due to territorial disputes between the two nations and China's rising labour cost. As such, Japan is strategically looking at changing course with alternative options in Southeast and South Asian countries. This strategy is known as the 'China plus one' model.

Another problem faced by Japan is that while the baby boomers' children are now finishing high school, Japan's population of 18-year-olds has shrunk by almost half to 1.18 million as of 2014. Although the figure has remained basically steady over the last several years, the National Institute of Population and Social Security Research predicts that this demography will begin shrinking again from around 2018, falling below the one million mark to roughly 990,000 in 2031. This phenomenon is called the '2018 Problem' where Japan's national and public universities could face difficulties in trying to fill their capacities.

Japan's industries are struggling to find employees. The upcoming 2020 Olympics to be held in Japan have started preparations and the need for qualified ICT engineers is being felt. Then there is the demand for qualified ICT engineers to power Japanese companies as they connect to the big cloud database and to keep up with evolving technology.

Sri Lanka-Japan connection
Having been in Sri Lanka for the past 15 years as Chairman of Metatechno Lanka, a subsidiary of Metatechno Inc., I have seen the quality of the education and the level of employability of students in Sri Lanka, especially in the ICT fields. These students are quick to learn, adaptable to any situation and have the potential to succeed in any environment. Unfortunately, the higher education system in Sri Lanka has deprived many talented students the opportunity of entering state universities because of limited quotas.

This is where I see tremendous opportunities for Sri Lankan students to study and work in Japan. Despite having numerous private universities with Commonwealth affiliation, there is no university that teaches Japanese language or its cultural norms. As such, Sri Lankan students cannot apply for many of the great opportunities that are opening up in Japan.

During my Chairmanship at Metatechno Lanka I have maintained bilateral relations between Sri Lanka and Japan in the ICT sector. To facilitate this possibility, I have started the Lanka Nippon BizTech Institute (LNBTI) to give students an opportunity to learn ICT skills and the necessary Japanese systems, language and cultural norms that will give them excellent chances of employment, either in Japan or any Japanese company in
Sri Lanka or the region.

Lanka Nippon BizTech Institute
The LNBTI programmes take three years to complete after which students graduate with a diploma certificate and the possibility of continuing to a degree level. Along with their usual course work, students must sit for Japanese Language Proficiency Test and Fundamental Information Technology Engineer Examination to complete the course.

The curriculum and other facilities in this programme are designed to ensure graduates are well qualified and highly capable of working in any related job in Japan or any other part of the world.

This training programme is focused on improving four language skills - reading, writing, speaking and listening. Starting from the alphabet, LNBTI hopes to provide a thorough knowledge on Japanese used in the corporate structure. This programme also targets the Japanese Language Proficiency Test – N2 level, which is an added qualification when finding a job in a Japanese company or entering a university in Japan for higher studies.
The Japanese-Language Proficiency Test (Nihongo Nōryoku Shiken or JLPT), is a standardized criterion-referenced test to evaluate and certify Japanese language proficiency for non-native speakers, covering language knowledge, reading ability and listening ability.

I hope that students will see this as an opportunity to further their studies and also to work in Japan or in any Japanese company.
Metatechno Inc., a Japanese software company, will set up the Lanka Nippon BizTech Institute, a Japanese university in Sri Lanka, as a joint venture with hSenid International, a Sri Lanka-based software company.

(Koga Michio is Chairman ofMetatechno Inc., Japan)