---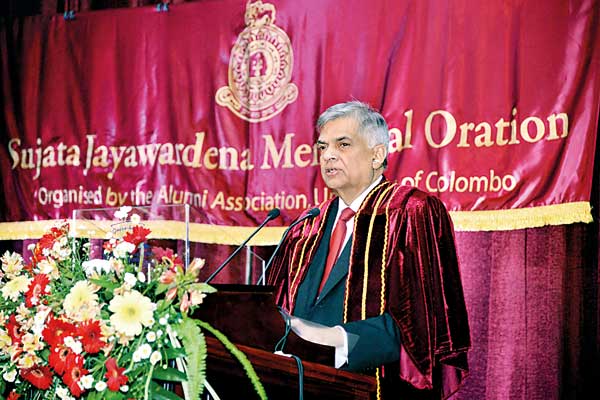 An innovative Political Council should be established to promote policy consensus and Parliamentary harmony, Prime Minister Ranil Wickremesinghe said, delivering the Annual Sujata Jayawardena Memorial Oration 2015 last Friday.

"Let us establish a mechanism to promote consensus. The best example is the European Council which consists of the leaders of its member countries," he said.

He said that the European Council is entrusted with defining the general political direction and priorities of the European Union, but the Council has no legislative or executive power and its decisions require a consensus or a special majority.

"This gives the Council its political clout. A similar Political Council can be established in Sri Lanka consisting of the Prime Minister, the Chief Minister and the Leaders of political parties. Consensus on major policies is the need of the day, especially as our political system is unable to provide it," he added.
He said that this will provide a platform for parliament to meet, discuss and depart in harmony to achieve the goals of Sri Lanka's future.

"The future of Sri Lanka depends on the outcome of this exercise. Prosperity is dependent upon stability. Establishing a highly competitive social market economy, strengthening democratic institutions, and achieving national unity depend on the ability of the political order to create a political consensus on major issues," he added.

Interestingly, he was making these comments just hours after a fistfight that erupted in parliament in connection to the death of a popular rugby player in the country. Wickremesinghe said that Sri Lanka should adopt such an out-of-the-box proposal, as the country had displayed a past of policy innovation.

"In 1835 Sri Lanka became the first Asian country to have a modern Constitution based on a written document. The Order in Council 1835. It has also being the most innovative Asian country in determining its Constitutional Order. We must not abandon such an approach. We must continue to innovate if it suits us," he said.

Meanwhile, he also said that an apolitical Second Chamber shall be created which will equally represent society through outstanding citizens and grassroots organizations including women and youth groups.

"The Second Chamber shall have the power to advise Parliament and government and to refer Bills back for reconsideration by the Parliament. Such a Second Chamber will provide sufficient safeguards for democratic institutions," he said.
---
Add comment

Comments will be edited (grammar, spelling and slang) and authorized at the discretion of Daily Mirror online. The website also has the right not to publish selected comments.

---