---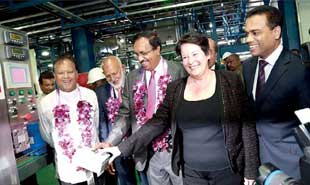 Chevron Lubricants Lanka PLC, a unit of US-based multinational inaugurated its new US $ 15 million state-of-the-art blending plant and warehouse complex at the Lindel Industrial Estate in Sapugaskanda, yesterday.Chevron Lubricants President Colleen Cervantes, Vice President Asia Pacific and Chevron Lubricants Lanka Chairman Farrukh Saeed, Chevron Lubricants Lanka CEO/MD Kishu Gomes, government ministers, local dignitaries, staff and the other key stakeholders of the company attended the event.

The new blending facility is built on 4.5 acreage of land and has a floor area of 5,000 sq m.This semi-automated plant has the capacity to produce 45 MML per annum of finished lubricants in a single shift operation with improved material flow for optimal efficiency and productivity.It's also equipped with an in-house modern laboratory facility and on-site base oil and finished lubricants storage tank farm.

"The modern warehouse with an efficient racking system has 1.4 million litre storage capacity for raw materials & finished products. The plant conceptualized and designed by the US experts, is on par with the very latest global technology and safety standards," the company said in a statement.The new plant is commissioned as a result of the lease of the land on which the previous blending plant was located expiring mid part of this year.In 1994, through the Government of Sri Lanka's (GOSL) privatisation initiative, Caltex International acquired 51 percent in Lanka Lubricants and GOSL granted another 10 percent of shares to the employees.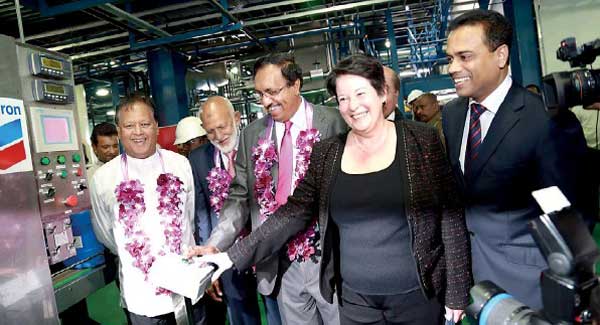 MINISTER OF PETROLEUM INDUSTRIES ANURA PRIYADARSHANA YAPA AND PRESIDENT OF CHEVRON LUBRICANTS COLLEEN CERVANTES COMMISSIONING THE STATEOF-THE-ART BLENDING PLANT IN THE PRESENCE OF MINISTER (SENIOR) FOR INTERNATIONAL MONETARY COOPERATION DR. SARATH AMUNUGAMA, MINISTER (SENIOR) FOR URBAN AFFAIRS A.H.M FOWZIE AND CEO/MD OF CHEVRON LUBRICANTS PLC SRI LANKA KISHU GOMES

In 1996, GOSL sold its remaining 39 percent stake to the public through the Colombo Stock Exchange.Following the acquisition, Caltex modernized the blending plant and improved the capacity, investing approximately US $ 10 million.For the nine months ended September 30, 2014, Chevron Lanak reported a net profit of Rs.2.18 billion, up 13 percent year-on-year (yoy) with earnings per share of Rs.18.24.The revenue increased 5 percent yoy to Rs.8.77 billion while the company was able to cut its sales costs by 2 percent yoy to Rs.5.12 billion, which resulted in a gross profit of Rs.3.65 billion, up 17 percent yoy.

The company announced a third interim dividend of Rs.5.50 per share to be paid on November 18, 2014.Chevron Lubricants Lanka is strategically powered by l ocal value addition through partnerships with leading local suppliers of the caliber of Hayley's Logiwiz, Aitken Spence, Pheonix and Sedawatta Mills.The company also exports its products to Maldives and Bangladesh.