---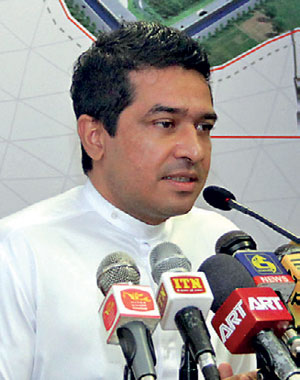 By Chandeepa Wettasinghe
The Board of Investments (BOI) regulations, which limit companies operating in free trade zones from selling in the local market, may be relaxed, Development Strategies and International Trade State Minister Sujeewa Senasinghe said.

Currently the BOI companies operating in the BOI industrial zones can only sell 10 percent of their products in the local market, but in return enjoy benefits on customs duties and foreign exchange.
"Those regulations can also change because the Prime Minister is keen on making Sri Lanka a competitive place. We might be able to let them sell 20 percent, 30 percent because Sri Lankans also deserve these good products," Senasinghe said.

He said that currently, high-quality Sri Lankan products are mostly exported and low-quality foreign products are imported for local consumption.

"The Sri Lankan public should also have the benefit of buying products for a lower cost. If you see countries that manufacture vehicles, it's cheap in that country. So we will do the best for our country," he added.

Companies selling 80 percent of their products overseas can also enjoy a 50 percent subsidy on income taxes under the current Inland Revenue laws. Draft laws attempting to change the qualification for the subsidy to 100 percent exports met with hostility and may be amended this week.

Justice Minister Wijeyadasa Rajapakshe had recently accused the BOI companies of illegally selling more than they're allowed to in the local market and enjoying exporter benefits.
Senasinghe denounced these claims.