---
Says COVID-19 3rd wave and subsequent restrictions have slowed down pace of work significantly
Points out possible shift in trade could even be irreversible
Says competing countries working diligently to deliver their orders on time
Sees mass industry-wide vaccination as only solution to overcome situation
By Shabiya Ali Ahlam
Sri Lanka's apparel sector fears about the likelihood of a shift in trade taking place, which will be difficult to reverse, as the industry is faced with mounting challenges in delivering its orders on time.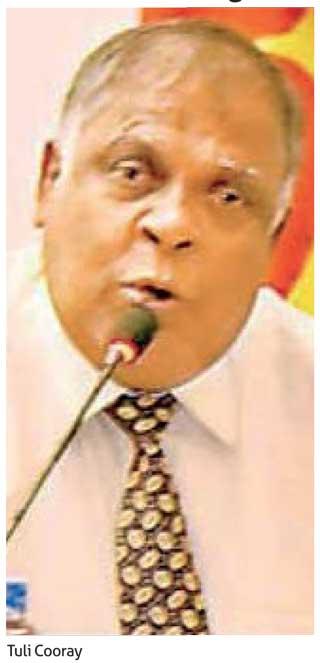 The third wave of the COVID-19 virus in the country and the travel restrictions are adding to the woes of the industry, slowing down its pace of work in catering to the export market.

"We are worried that by not being able to deliver the goods we might lose trade. If there is a trade shift, it will be difficult to get that back since a large number of our competing countries are really working on getting their deliveries out on time," JAAF Secretary General Tuli Cooray told Mirror Business.

"Our deliveries are becoming increasingly lower and that is the issue," he said.

According to Cooray, the industry's goal of reaching US $ 5 billion turnover for 2021 will also not be possible, due to the recurring challenges the stakeholders have to grapple with to process orders.

As reiterated by the industry stakeholders previously, the sector will only be able to move forward without any hiccups by getting those involved in the industry, across all levels, vaccinated against the COVID-19 virus.

"We don't know any answer for this other than the vaccination," said Cooray when questioned on the plans the industry heads have conceptualised to move forward.

Since the vaccination was made available in the country, the apparel industry has expressed its willingness to even procure vaccines for its workers, so that the work can continue with minimal hindrance.

However, no decision has been reached in this regard as yet by the government.

For the first four months ending on April 31, apparel exports expanded by nearly 29 percent year-on-year (YoY) to US $ 1.7 billion.

For the month of April, apparel exports grew by a record 462.38 percent YoY to US $ 365.04 million. This was a recovery from the record low exports in April last year.

However, in comparison to the March export figure of US $ 465.35 million, apparel exports were down by over US $ 100 million in April, statistics from the Export Development Board (EDB) showed.

The apparel sector ended 2020 with an export earnings figure of US $ 4,405 million.

In 2020, which was considered as the year of the pandemic, the industry witnessed its supply chain derailed, due to the non-availability of the required raw materials.