---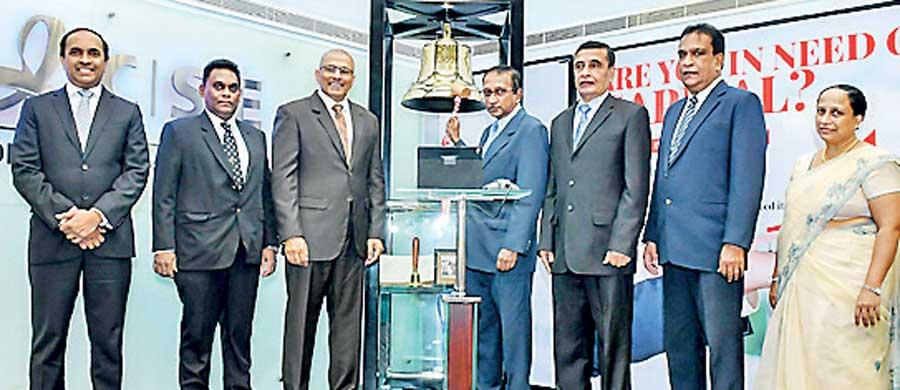 From left: CSE CEO Rajeeva Bandaranaike, CSE Director Shanil Fernando, CSE Chairman Ray Abeywardena, MCPL Managing Director Felix Fernandopulle, MCPL Director Prof. T.S.G Fonseka, MCPL Director M.A.C.H. Munaweera and MBSL Chief Manager Lalangi Gonawardena
Pic by Waruna Wanniarachchi
Mahaweli Coconut Plantations Limited (MCPL) yesterday became the first company to be listed on the Colombo bourse, following a hiatus of nearly 15 months.
MCPL listed 33.8 million ordinary voting shares by way of an Introduction on the Diri Savi Board of the Colombo Stock Exchange (CSE).
Marking the firm's first day of trading, the top officials of MCPL yesterday morning rang the bell, kicking off the trading activities for the day.
"With the listing of the company, the corporate governance and standards will definitely improve. If some of our long-standing shareholders want to dispose or transfer their shares, this will be a better opportunity," MCPL Managing Director Felix Fernandopulle told reporters after ringing the bell.
The firm's shares rose by 10.7 percent to Rs.14.40 with 122 share volumes being traded on the CSE yesterday.
CSE Chairman Ray Abeywardena noted that MCPL is the first purely coconut plantation firm to list its shares on the CSE, while there are 20 listed plantation sector firms in the CSE with over Rs.25 billion in market capitalisation.
As the profits rose by 78.6 percent year-on-year during the last financial year, the firm earned Rs.117.3 million by harvesting 5.5 million coconut nuts on its 1,300 acres of coconut plantation located in Pimburettewa, Aralaganwila, in the Polonnaruwa District.
MCPL's revenue rose by 17.2 percent YoY to 212.9 million in the period, according to the audited financials.
The earnings per share rose to Rs.3.46 in the last financial year, from Rs.2.16 in the preceding year.
As the primary business, MCPL sells coconuts to local firms to manufacture desiccated coconut, coconut cream, coconut milk and coconut water, solely for export purposes. In addition, MCPL also planted teak trees as wind breakers, which are expected to harvest from the latter part of this year.
Fernandopulle noted that at the end of last financial year, these trees were valued at around Rs.103 million.
In terms of future plans, he revealed that MCPL is currently in negotiation with a business partner to get involved in the production of fibre products.
Further, the firm has plans to improve its irrigation system in the plantation, under new technology, by introducing the solar power water system to improve drip irrigation, at a cost of around Rs.8.5 million.
The firm plans to mitigate elephant attacks by erecting an elephant fence at a cost of Rs.2.5 million, with the assistance of the Wildlife Department.
MCPL expects the cash flows to the firm to further improve this year, with the anticipated rise in coconut prices at the end of this year and the income from the
teak harvest.
Due to the impacts of drought, which lasted until April this year, he expects the coconut prices to climb up to the Rs.60-70 range, by the December-January period.
Fernandopulle identified that there are increasing opportunities for coconut plantations. However, he was concerned on the lack of support extended by state intuitions to increase coconut cultivations, particularly in non-conventional coconut growing areas such as Polonnaruwa.
MCPL was incorporated as a Limited Liability Company in 1996 by the stakeholders of the desiccated coconut processing industry.
The firm has leased 551.38 hectares of uncultivated land from the Mahaweli Authority, until November 2028 and turned into a coconut plantation.
The firm plans to extend the lease arrangements to a minimum of 50 years.
Dunagaha Coconut Producers Co-op Society Ltd, Silvermill Holdings Ltd and Sanhinda Mills (Pvt.) are the top three shareholders of the firm. (NF)