---
Says it's not reasonable for some buyers to ask manufacturers to airlift goods to make up for delays
Says saddened by "lack of partnership"
Reminds of immense sacrifices by manufactures due to payment delays and order cancellation during previous COVID waves
Sri Lanka's hard-hit apparel sector yesterday expressed serious concerns in the manner in which its buyer communities are treating the industry and stated it is saddening to note the "lack of partnership" shown by them during the ongoing challenging times.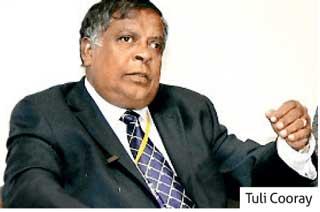 In an open letter to brands and buying communities, the Joint Apparel Association Forum (JAAF) expressed it is not just for some of the buyers to ask manufactures to airlift the goods to make up for the delays.

"Whilst most major brands have partnered with us in a positive manner, a few have forgotten or ignored the sacrifices we made during the first two waves. We are being asked to air goods for delays of three to four weeks, when during the first two waves we accepted cancellations and extended payment terms up to six months in some instances," JAAF Secretary General Tuli Cooray said in an open letter that was shared with the media yesterday.
Cooray pointed out that in a low margin industry such as apparel, paying airfreight is an expense that would inevitably lead to the collapse of the industry as a whole.

"The ball is in your court. Please support us and be our partner in our time of need as we were during yours," asserted Cooray.

He pointed out that the apparel sector continues to suffer, due to a lack of availability of vaccines in the market and despite the challenges, the manufacturers are doing their best to keep operations running in a manner that prioritises the health and safety of their associates.

"We urge you to step up in our time of need and show us the partnerships that you say you herald. While we understand the dynamic nature of the fashion industry, we are currently handicapped by a force of nature that is outside of our control.

Please support us in prioritising worker health and safety, ensuring over a million people have a livelihood on the other side of this pandemic and help us get through these trying times together," Cooray urged.

Unlike the last two waves, he highlighted that the third COVID-19 wave hit the sector in a different manner.
"Due to the global inequity in vaccine distribution, you and the countries you reside in are starting to ease restrictions and go back to what life looked like pre COVID-19 while we have been crippled by yet another wave that has seen COVID-19 cases rise by over 130 percent in two months and COVID-related deaths rise by 239 percent in the same period," he shared.

Cooray stressed that the industry is fully aware that when the island nation transitioned to an open economy, it was the most valuable partnerships with the buying markets that paved the way for the local apparel sector to become the backbone of the economy.

"It is in this spirit that we are seeking your intervention to help us in our difficult situation," Cooray appealed.