---
By Chandeepa Wettasinghe
A new 3-year economic policy will be unveiled in early September, that will carry a host of proposals for improving the ease of doing business in Sri Lanka, according to the National Policies and Economic Affairs Deputy Minister.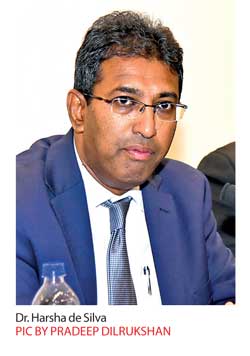 "Government is working on trying to make business easy for you, so please bear with us. Give us a few more months and you will see the policy documents coming out. In early September we'll have a 3-year budget, a 3-year policy, which will not change," Dr. Harsha de Silva said.

The statement drew laughter from the audience, who were in attendance at a seminar organized by the United National Party's Young Professionals Association, where the deputy minister was
a panelist.

"Which will not change, don't laugh, I'm telling you, for the remainder of the first term of this government," he retorted.

In November 2015, the government unveiled an economic policy, which had objectives spanning across two to ten years, while in November 2016, the government unveiled a 1,500-day economic plan.
Under a reform and balance of payments relief package from the International Monetary Fund, which is now linked to reforms and financial assistance from various other multilateral agencies, Sri Lanka has to reach key fiscal and monetary policy targets and implement economic reforms for the next 3 years.

Dr. de Silva was making the comments after saying that Sri Lanka cannot issue simple visas such as 6-month business visas and student visas, despite aiming to become a hub for business and knowledge.

"Things like that; we're streamlining and fixing that. For instance, the unique ID project, which was stuck for about 18 months for no apparent reason. We have really smashed through the bureaucracy and opened it out again," he added.

He went on to say that the government is also working on the progress of the proposed Colombo International Financial Centre (CIFC).

"We're now working very hard to come up with the ideal model, to create the international financial hub for the Indian Ocean, to situate between Dubai and Singapore. You'll have work. I'll tell you that. We're hoping by early next year to get it going," he said. A leading attorney recently said that the government's previously announced model of operating the CIFC under English Law to create an internationally acceptable legal and financial framework similar to those in the Dubai and Singaporean Financial Centres would create a constitutional mess in Sri Lanka.

Dr. de Silva said that the government and the society have to work together to create an economy centered on entrepreneurship, innovation, exports and both parties have to live up to their responsibilities.