---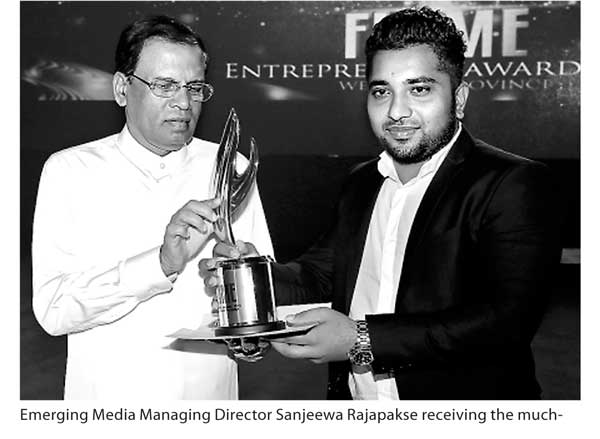 Emerging Media (Pvt.) Ltd was presented Flame 2016, the Western Province's entrepreneur award in the Digital Advertising category. At the gala event held at Galle Face Hotel recently, Emerging Media Managing Director Sanjeewa Rajapakse received the much-coveted trophy from President
Maithripala Sirisena.

Commencing business with the unique concept of 'Bus TV' in 2009 by placing digital screens within luxury buses, Emerging Media today has evolved to become the leader in digital screen advertising in the country.
"We are building online and offline platforms for our clients to engage with their relevant target groups. Our main business revolves around location-based digital display marketing where we provide digital advertising solutions over a large network of locations," Rajapakse said after the event. Rajapakse added that the company has many exciting projects in the pipeline, including the recently launched CookingTV.lk, the website that fills a gap in Sri Lanka's online video content with gastronomy and the culinary arts.

In 2011, the company introduced TV Salon, a network of 50 top-range salons in Colombo with reserved rights to run Dialog TV content, providing clientele the opportunity to
advertise on.

The company also offers its clientele the chance to advertise on giant LED screens set in prime locations. The Myjobs.lk website launched in 2015 supports the job market in Sri Lanka and the site is associated with Mydeal.lk, which has partnered with Dialog TV in an effort to improve
digital marketing.