---
The United Nations Office for Project Services (UNOPS) and World Health Organisation (WHO) partnered in the Batticaloa District to support healthcare waste management at the Valaichchenai Base Hospital. This initiative has also benefitted staff from other hospitals in the region due to sharing of information and best practices.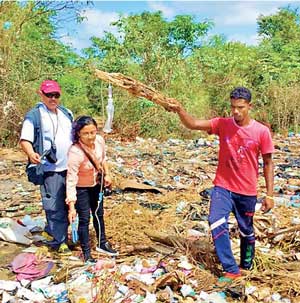 The project has been implemented with the financial assistance provided through the European Union Support to District Development Programme (EU-SDDP), with a total financial envelope of EUR 60 million. The programme aims to support the Government of Sri Lanka's thrust for economic and social development in seven conflict-affected districts covering half a million people.
The biggest hazard to public health and the environment comes from infectious waste which constitutes around 20 percent of all medical waste. Infectious waste includes blood contaminated syringes, gloves and catheters. In Sri Lanka, small-scale incineration of medical waste and disposal of waste in open dumpsites is common. However, WHO and the Stockholm Convention have stressed the risks associated with such incineration of medical waste. In addition to the release of carbon monoxide, pathogens and toxic chemicals such as dioxins are usually present in ash residues after incineration and present dangers to the population and environment. WHO advocates alternative technologies to incineration that do not produce dioxins.
The work conducted at the Base Hospital was developed in consultation with Regional Director of Health Services of the Batticaloa District and UNOPS initiated specialist technical advice on the hospital's waste management aspects. A specialist team from WHO carried out a waste characterization study that identified that 76 percent of the waste produced was risk-waste, whereas guidelines recommend that only 10-25 percent should be risk-waste. The WHO team also recommended a number of key steps for setting up an effective hospital waste management system. UNOPS is supporting the implementation of this system through the procurement of assets and the facilitation of training and skills development.
The WHO team identified that while hospital staff recognized the importance of medical waste management, their technical knowledge needed to be improved. WHO and UNOPS trained hospital staff in strengthening their knowledge on best practices, minimizing exposure to hazardous medical waste and fostering responsibility among all hospital staff for waste management. A model ward will be installed where best waste management practices will be introduced and will help in their replication in other wards of the Base Hospital.