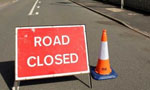 Vehicle movement from Katunayake Bandaranaike International Airport (BIA) to Colombo along the Colombo-Katunayake Expressway would be restricted between 4.00pm to 6.00pm today (04) due to the arrival of Pakistan Prime Minister Nawaz Sharif.
Police said the vehicle movement would be restricted from BIA along the Colombo-Katunayake expressway, Bandaranaike Roundabout, Baseline Road, Orugodawatta, Indram Junction, Saddarma Mawatha, Pradeepa Mawatha, Sangaraja Roundabout, Panchikawatta, Maradana Junction, Darley Road, Gamini Roundabout, D.R. Wijewardene Mawatha, Regal Roundabout, Pasan Road to Slave Island Police Roundabout.
Meanwhile, the road from Pasan Road to Regal Roundabout, Bank of Ceylon Mawatha, Janadhipathi Mawatha to Galle Centre Road would be closed between 8.30am to 10.00am tomorrow (05).
Police said NSA Roundabout to Kollupitiya Junction on the Galle Road would be closed between 11.00am to 12.30pm on January 5.
Meanwhile vehicle movement from Kollupity Junction to NSA Roundabout, Lotus Road, Ceramic Junction, Regal Roundabout, Pasan Road and Kollupitiya Police Roundabout would be restricted between 1.30pm to 2.00 pm tomorrow.
Police said both ways on the road would be restricted during the time of the closure.