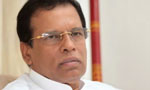 Though he was highly criticised in the social media for making statements on country's values, President Maithripala Sirisena today said that he wouldn't allow people, who had influenced by foreign cultures, to walk naked on the road.
He expressed these views at the Silpa 2014 Handicraft Award Ceremony held at the Battaramulla Ape Gama Premises.
"I am being attacked in the social media circles for making statements to preserve our culture. But I'm not being affected by those attempts. I come from a village and act based on good behaviour and ethics. I can't allow anyone to walk naked on the road. I would not allow anyone who embrace and regard the foreign cultures with esteem to degrade the greatness of the nation and proud culture of the country," he said.
He said the objective of his assuming of Presidency on January 8 was to usher a developed country, while preserving the country's culture of thousands of years and values of the civilization.
"My views about the musical show conducted by a foreign singer is being battered in the internet by some people with the intention of bringing disrepute to me .But they should understand that their efforts would only disgrace the greatness of the country and its culture," he said.
He said the culture and heritage was more significant and stronger than the laws to a society.
He also said everyone should unite and work together to elevate the country in the global sphere by introducing our innovations and skills based on our traditional heritage.
At the function, a large number of skilled handicraft artisans were presented awards in appreciation of their skills.
The President was also presented with a memento at the occasion.
The Minister of Industries and Commerce Rishad Bathiudeen, State Minister Champika Premadasa, Secretary of the Industry and Commerce Ministry P.M.K.P. Thennakoon and a large number of invitees were present.