---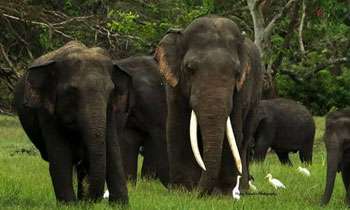 Deega Danthu I, one of the elephants with the longest tusks roaming the Kala Wewa National Park, was found with gunshot injuries on Monday, Galkiriyagama Wildlife Warden D. Ranasinghe said.
Speaking to the Daily Mirror, he said the Galkiriyagama Wildlife Department had been informed by several fishermen in the Kala Wewa area about a wounded tusker, which was limping.
Deega Danthu was one of the 18 tuskers living in the Kala Wewa National Park.
"As soon as we got the message, a team led by Galkiriyagama Wildlife officers, Civil Defence Force officers and veterinary officers of Pandulagama were sent to the location along with several villagers," Mr Ranasinghe said.
"At the time we reached the location, the elephant was found in a critical condition due to the injuries sustained on its front left leg," he said.
The medical team had treated the tusker on Tuesday (12) morning.
"The elephant is now recovering well following the treatment. There are many licensed guns among the people living near the Kala Wewa National Park. This injury cannot be from a licensed gun, but from a trap gun used to kill wild animals illegally," he said.
Following the investigation conducted by the Wildlife officers, they found the elephant had been injured by a trap gun in the Kahagalle forest area in the Kala Wewa National Park.
It was reported that the tusker used to enter villages searching for food and it had no fear of the methods adopted by the villagers to chase him away.
Mr Ranasinghe said there was no use of creating electric fences for tuskers because tuskers use their tusks to trample the electrified fence.
"Tusks do not pass electric shocks. Therefore, they remove electric fences using their tusks and enter villages to in search of food," he said. (Chaturanga Samarawickrama)