---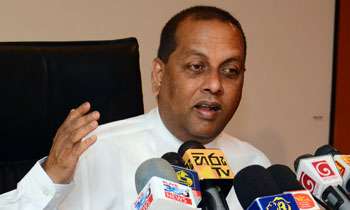 The SLFP ministers, state and deputy ministers, who voted for the no-confidence motion will remain in the yahapalana government to protect and support party leader and President, Maithripala Sirisena, UPFA General Secretary and Minister, Mahinda Amaraweera said today.
He said they were prepared to quit the government if and when the SLFP Central Committee decided they should do so.
"I have been extremely disappointed and hurt over the utterances made by those who voted for the no-confidence motion. I wonder whether it was with them that we worked in the unity government and in the same cabinet during the past three years," the minister said when commenting on the derogatory statements made by some of them.
He said the situation had changed dramatically by the morning of April 4, the day of voting when the political parties and MPs were aware of the fate of the no-confidence motion. "The SLFP and joint opposition members knew they did not have the numbers to pass it. The TNA and SLMC had decided to vote against it. That is why on the instructions of the President we decided to keep away. We can't do anything for the loss of cabinet portfolios of those who voted for the motion. It is their own making," he said.
The minister said the SLFP ministers were ready to leave the unity government at any time when the President and the party's Central Committee decides. (Sandun A Jayasekera)