---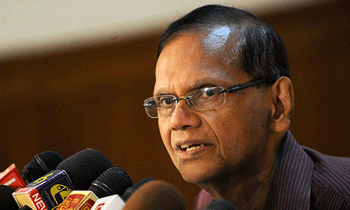 The joint opposition today charged that Cabinet Spokesman Minister Rajitha Senaratne's statement on establishment of a separate court to hear cases involving the Rajapaksa's, was mere ignorance.
Professor G.L. Peiris told a news conference that establishment of such a court would completely violate Section 12 of the Constitution on the right of equality.
"It is impossible to establish separate courts aiming on a particular group or family," he added.
Meanwhile, he said that it was impossible to establish a Trial-at-Bar to probe into the alleged corruptions which had taken place during the Mahinda Rajapaksa regime.
"Generally a Trial-at-Bar is established to probe in special murder cases. It is impossible to establish a Trial-at-Bar to hear the alleged corruption cases of the period of the former government," he added. (By Kalathma Jayawardhane)
Video by Buddhi