---
Joint TU protest against IMF deal tear-gassed in Borella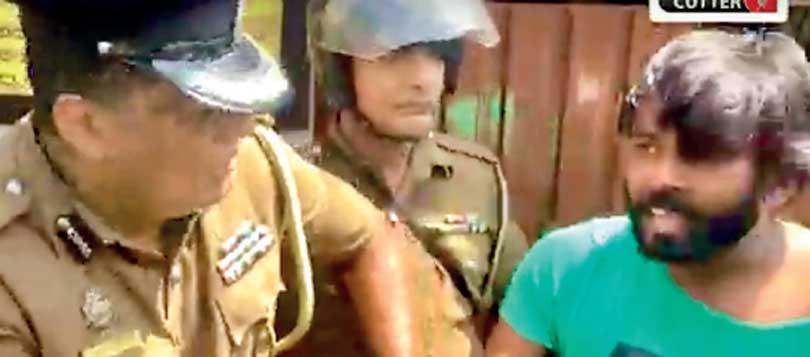 By Kurulu Koojana Kariyakarawana
Journalist cum media activist Tharindu Uduwaragedara was beaten and arrested by the police and police riot squad units that dispersed a joint trade union protest held against the IMF deal yesterday in Borella, by firing tear gas and water cannons.

Uduwaragedara was reporting the incident by recording the event from his mobile phone inside a trishaw, soon after the protesters were forced to vacate the area by advancing riot control troops firing water cannons and tear gas.
Several videos circulating live on social media depicted how a group of policemen grab Uduwaragedara from the trishaw and drag him to a police jeep, despite his claims that he was a journalist covering the incident.
He was then bundled into the jeep and whilst doing so, a constable pulled him by his hair and beat him on the head. Uduwaragedara was taken away from the scene despite the pleas by other journalists who were present at the scene claiming he was not a protester but a journalist covering the event.

Uduwaragedara was subsequently taken to Borella Police where he was locked up in a cell. A group of lawyers, journalists and family members soon arrived at the police station in seek of his release.
Uduwaragedara's partner Rekha Nilukshi Herath told the Daily Mirror that Tharindu had been beaten on the head by the police whilst being taken to the station in a jeep and that he was complaining of visual defect in his right eye afterwards.
Attorney Jayantha Dehiattage who was amongst the group of lawyers waiting outside the Borella Police said that his client had complained that two policemen, one identified as W. H. S. Ranasinghe and a Constable 706648 had beaten him on the head a couple of times inside the police jeep.

Attorney Dehiattage said the police was to detain Uduwaragedara last night at the police station and produce him before the Judicial Medical Officer before he was to be produced before the Magistrate's Courts.
A group of representatives from the Human Rights Commission of Sri Lanka (HRCSL) who visited the Police Station had asked the police to refer Uduwaragedara to immediate medical attention.

Meanwhile, several journalist organisations including Sri Lanka Working Journalist Association (SLWJA), Young Journalist Association of Sri Lanka (YJASL) issued statements condemning the attack and requesting the Inspector General of Police to conduct an impartial inquiry.
Opposition politicians Mujibur Rahuman and Hirunika Premachandra also visited the Police Station.
Uduwaragedara was subsequently taken to Borella Police where he was locked up in a cell. A group of lawyers, journalists and family members soon arrived at the police station in seek of his release