---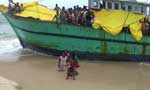 Indonesia has allowed international humanitarian organizations to assist Sri Lankan migrants stranded in Aceh after bad weather foiled much-criticized plans to tow the group's boat back into international waters.
The migrant boat came ashore more than a week ago after its engine broke down off the northernmost province of Sumatra. Indonesia provided food, water and repairs but refused to let the 44 migrants disembark until Saturday.
They have been sheltered in tents, and Indonesian efforts to refloat the beached vessel have ended with it tilted on its side and its engine inundated by seawater.
The International Organization for Migration said Tuesday that Indonesia has invited it and the U.N.'s refugee agency to assist the migrants.
IOM said it is providing aid as needed and assessing what the migrants' needs are likely to be in the coming days and weeks.
The migrants, who left from India a month ago, may have originally come from Sri Lanka where the Tamil minority has suffered persecution.
Some of the migrants told The Associated Press last week they had been in India for several years and had paid a significant amount of money for the boat to take them to Australia.
Indonesia has insisted it would be acceptable to tow the group back out to sea because Indonesia wasn't their destination, a stance that has been condemned by human rights groups.
"Mother Nature has forced the issue as it impossible for this group to safely remain aboard the vessel ...," IOM said in a statement.
But the head of the immigration office in Aceh continued to insist the shelter given to the Tamils was temporary.
"The government's position is still the same. We will be towing them back to international waters," said the immigration official Achmad Samadan. (Daily Mail)